If you are looking for slow cooker magic, then this crockpot roast without vegetables recipe is your best bet.
Just season, char, and pour, and then you are ready to go.
You will start this recipe for crockpot roast without vegetables with an inexpensive piece of meat and then transform it into a tender and nutritious chuck roast bathed in a simple gravy.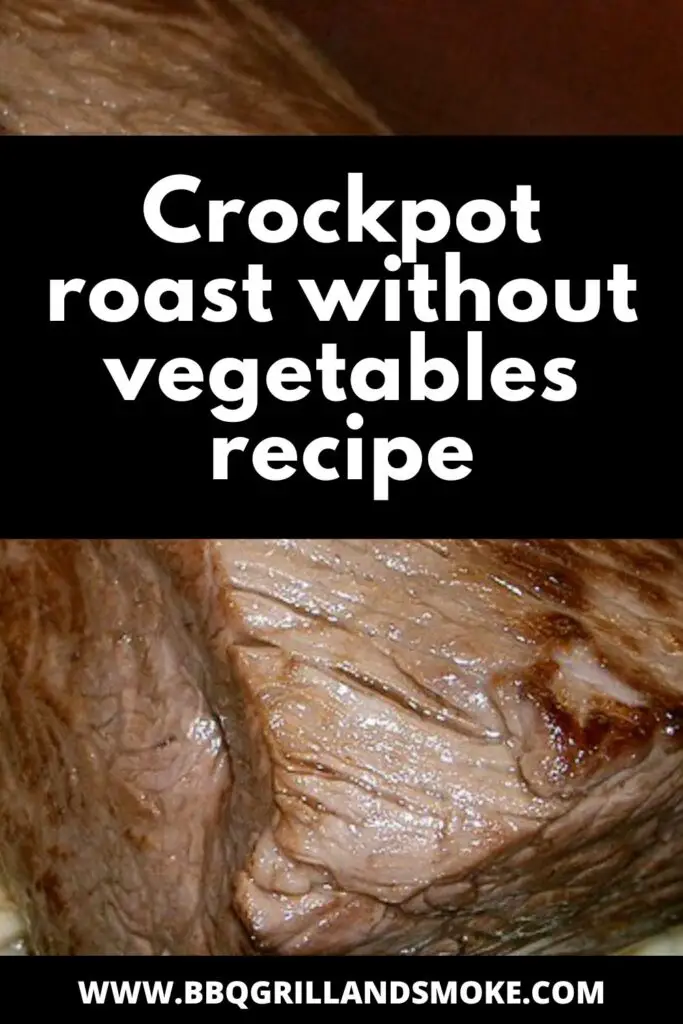 If you want the easiest comfort food meal you can possibly make, just serve this meat with creamy mashed potatoes.
Sometimes I'm just desperate for a meal that will keep me full longer than an hour, and it might actually be the same in your case.
The truth is that you can never go wrong with this roast recipe, and you should feel free to add veggies if your family prefers them.
What is Chuck Roast?
It might probably be your turn to make Sunday dinner, and you are all ready to spend the afternoon making an appetizing and delectable chuck roast, but the question here is: what exactly is a chuck roast?
In my opinion, I will say that Chuck Roast is just an excellent game show host name, given that's how it sounds to me.
But, now let's get back to reality. The chuck roast is a specific cut of meat.
It is any cut of meat that is gotten from the chuck, which is the shoulder part of the steer.
Chuck roasts are also commonly referred to as chuck pot roasts, chuck roll roasts, and chuck eye roasts.
The Best Recipe for Crockpot Roast without Vegetables
This is a moist version of slow cooker roast beef without vegetables that is made with simple ingredients that combine to yield a tasty flavor.
You won't need any extra seasoning for the gravy made from this beef, and it is also an excellent enhancement that you can add to the beef in addition to whichever side dish you select.
Course: Main Course, Dinner
Cuisine: American
Prep Time: 20 minutes
Cook Time: 4 hours
Total Time: 4 hours and 20 minutes
Servings: 8 servings
Ingredients
1 (2 ½ pounds) of boneless beef chuck roast
Ground black pepper (to taste)
1 tablespoon of cornstarch (or as much as you need)
1 ½ cups of water
1 pinch of garlic salt (to taste)
3 tablespoons of Worcestershire sauce
½ (1 ounce) of package dry onion soup mix
3 tablespoons of soy sauce
1 tablespoon of red wine vinegar
Laid-Out Instructions
First, you are to get the garlic salt and black pepper and use them to rub the beef roast, then proceed to place the roast in the bottom of the crockpot.
After that, mix the soy sauce, Worcestershire, and red wine vinegar together, then pour them over the beef roast.
That being done, get the onion soup mix and sprinkle it over the beef, then pour the water into the slow cooker around the roast, making sure that it is not over the top.
Afterward, cover and cook on low until you can no longer find pink in the center and the meat has become fork-tender; this should take around 4 to 6 hours.
Now, proceed to transfer the sauce from the slow cooker into a saucepan on the stove. Then, heat over medium heat until it starts to bubble, and mix in cornstarch to thicken.
Serving Suggestions
You can easily use the leftovers to make a completely new dish for dinner, but this is determined by how you originally flavored your chuck roast.
Some of my suggestions include stir-fry, roast beef sandwich, shredded beef taco, pocket sandwich, patty melt, empanadas, or shepherd's pie.
What to Serve with Roast
Pot roast gravy
Asparagus and tater toss
Twice baked potatoes
Potatoes au gratin
Parmesan Potatoes
Puff pastry-wrapped asparagus rolls
Storing Tips
Make Ahead of Time
You can always make your chuck roast ahead of time.
Just put the whole pot containing the roast and the juices in the refrigerator immediately after cooking.
Store
You can also store any leftover roast in the refrigerator, but make sure it is in a covered dish.
Also, ensure that you add any of the juices from the original cooking pot, as these juices will help keep the roast from drying out in the fridge.
Reheat
To reheat, you can do that in the microwave; however, I recommend that you do that in the oven.
All you need to do is cover the pan with the meat and juices and bake it at 325 degrees F. Do this until the meat reaches the desired temperature.
Freeze
If you are not planning to eat any of your chuck roast leftovers within 2-3 days, then you can proceed to store them in the freezer for later.
All you need to do is place the roast in a freezer-safe, tightly sealed container.
Do the same with some cooking juices, and this should be in the same freezer-safe, tightly sealed container. You can freeze it for up to 2 months.
Just defrost in the refrigerator for 1-2 days when you are ready to cook.
Simply place the meat and the juices in a baking dish, cover, and bake at 325 degrees Fahrenheit until the beef reaches the desired temp.
Frequently Asked Questions
Do I Have To Brown The Meat?
The short answer to the above question is no; you don't have to brown the meat, given that it is not required.
However, even so, it is still highly recommended. Searing the meat will help seal in the juices and also add richness and depth of flavor.
So, that being said, if you skip this step, your meat will still be really good, but just not as great.
Can I Use a Frozen Roast in the Crock Pot?
Some people say that frozen beef does not heat up fast enough, which will in turn lead to bacteria.
As a matter of fact, there's actually an ongoing debate about the safety of cooking frozen meat in a slow cooker.
I've never had an issue because I've personally cooked a frozen roast a couple of times.
They will definitely turn out better when fresh or completely defrosted; however, you will still get good results when you use a frozen roast.
That being said, you will need to add extra cooking time if you are cooking a frozen roast.
On estimation, you will need an extra 4-6 hours on low or 2 extra hours on high.
You can also cook it on high for 2 hours, then turn the slow cooker down to low and cook for the rest of the time, which is 8–10 hours.
How Do I Know When Chuck Roast Is Done?
Well, you can do that by testing the roast with a fork. And it will still be tough and chewy if it is undercooked.
You will know it is done when it is succulent, starts to fall apart, and easily breaks apart with the fork.
Can I Add Vegetables To My Crock Pot Chuck Roast?
Even if this is a crock pot chuck roast recipe without vegetables, you can still add veggies to it if that is your preference.
You can add onions, potatoes (red potatoes, Russet, or Yukon Gold will do the job), and carrots.
Keep in mind that baby carrots cook in no time and will most likely be the best added part-way through the cooking time.
Final Thoughts
If your meat has too much fat around the outer edge, I suggest that you trim the meat before seasoning.
And, ensure that your pan is extremely hot, as this will help you get good char.
Before scraping up the bits off the bottom, make sure you simmer the beef broth for a couple of seconds, as this adds plenty of additional flavor.
Bottom line: this crockpot roast with vegetables is fall-apart tender and also makes its own gravy as it cooks.