You can use this rump roast sous vide recipe to make a perfectly medium-rare roast that is juicy and soft on the inside with an incredibly caramelized crust on the exterior.
You should try cooking your next rump roast sous vide if you like succulent, juicy roast beef.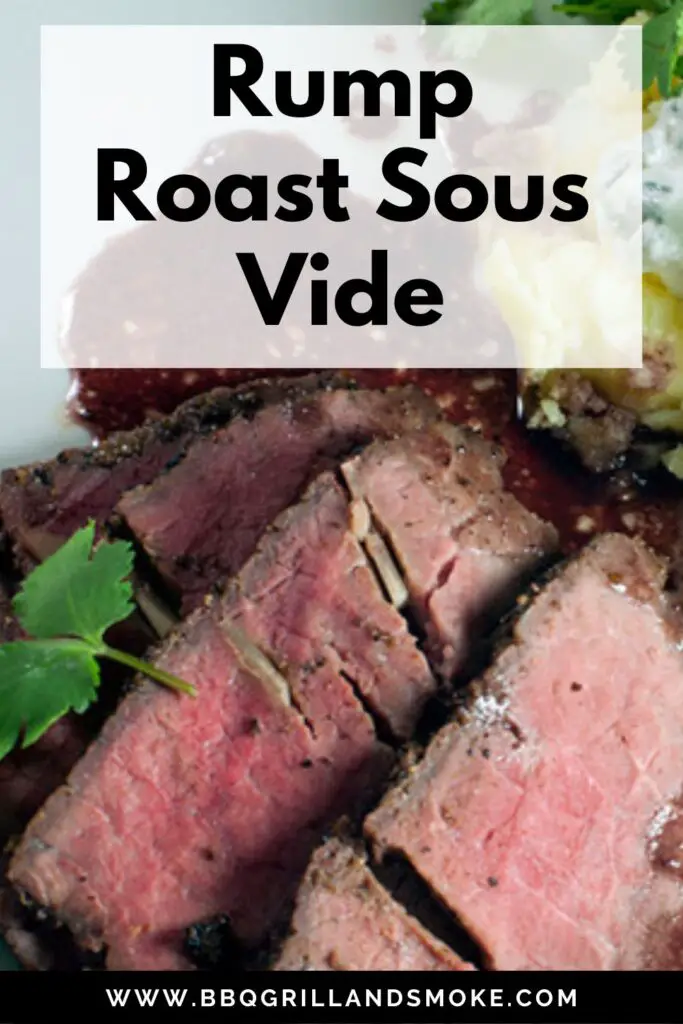 Whether you are serving the entire thing for dinner or just want a delectable way to make roast beef sandwiches, this recipe makes an incredible roast.
The importance of cooking a roast this way is due to the fact that the long cooking time softens the beef while it absorbs the flavors from the spices without overcooking the meat.
What Is Sous Vide Cooking?
Normally, sous vide cooking caramelizes an inexpensive cut of beef with some seasonings.
After that, it is slow-cooked in a water bath, and you can use an immersion cooker for this until the meat becomes tender and mouth-watering.
There won't be a need to tenderize, given that the seasoning blend and sous vide will do all the work.
Making sous vide rump roast is a fast and simple way to get ideal results all the time, particularly if you are cooking for a crown or meal prepping for the week.
Serving Options for Sous Vide Romp Roast
There are several different ways to serve roast beef cooked this way.
Slicing it thin and using it for French dip or Italian beef sandwiches is one of the most popular ways to serve this meat.
You also have the option of making a roast and slicing it throughout the week whenever you want a roast beef sandwich, and you can use whatever toppings you have on hand.
You can serve traditional open-faced beef sandwiches if you are using the cooking liquid to make gravy.
In addition, it works equally well as the core of a grand dinner.
Below are a few of the dishes I would suggest that you serve with this easy recipe:
Sautéed green beans with balsamic vinegar
White cheddar and horseradish mashed potatoes
Mashed potatoes
Green beans
Steamed broccoli
Leftovers
You can store your leftover roast beef in a tightly sealed container and then place it in the refrigerator. This will allow it to last for up to 7 days.
You can also reheat it in a skillet or in the microwave.
And you have the option of serving it cold in a sandwich, salad, or wrap.
In addition, you can slice the leftover rump roast and add it to a soup or just stir fry it with broccoli, carrots, bean sprouts, water chestnuts, and baby corn.
Lastly, you can use leftovers to make the perfect beef sandwiches on whole wheat bread along with horseradish. Delicious!
Rump Roast Sous Vide Recipe FAQs
Can I Sous Vide Frozen Rump Roast?
The straight answer to the above question is yes, you can sous vide frozen rump roast.
You can even sous vide cook the roast from frozen directly.
The instructions and cooking time are also the same as for the fresh rump roast.
How to Reheat Leftover Sous Vide Rump Roast
I strongly suggest that you reheat the leftover rump roast in the sous vide warm water bath for the best result.
For a big piece, just heat up the water bath to the same temperature and then cook for around 20 hours.
However, you can always reduce the time accordingly if your leftover is smaller.
Dipping Sauce for Sous Vide Roast Beef
This is a delectable dipping sauce that will help take your rump roast to the next level.
Some of my favorites include Beef Au Jus, garlic parmesan sauce, Arby's Horsey Sauce, and cilantro chimichurri.
Can You Overcook Sous Vide Roast Beef?
Technically, you cannot overcook meat using the sous vide method, given that the temp can never go above the programmed temperature.
However, keep in mind that if you leave it in a container of heated water for too long, the texture of the food will become mushy.
Can I Use Sous Vide an Eye of Round When It's Frozen?
Of course, you can. Just make sure that when sealing the bag, you include enough seasonings with the frozen meat.
After that, you can allow an additional 2 to 3 hours of sous vide cooking time, given that it needs to thaw before the cooking begins.
Final Thoughts on Sous Vide Romp Roast
The roast is amazingly tender, moist, and filled with flavor.
I suggest you have this for breakfast or brunch: just steak and eggs with potatoes then topped with an egg.
However, it is also perfect for dinner with some roast vegetables or sliced thinly for sandwiches for lunch.
It is perfect for a crowd, thanks to the fact that you can cook a large roast at once.
Sous vide is just the only way you can transform a tough cut of meat like rump roast into this tender, juicy, mouth-watering roast, and you will still cook your roast at rare or medium rare.
With all that being said, I'm sure you now have all you need for this perfect rump roast sous vide.
Tender Sous Vide Rump Roast
Sous vide is the only way to transform a tough cut such as rump roast, chuck roast, or bottom round roast into a succulent, tender, juicy roast while still cooking it at medium-rare or rare.
This sous vide rump roast is ideal for steak and eggs for breakfast, for lunch sandwiches, and even for dinner for a crowd.
Course: Dinner, Main Course
Cuisine: French
Active Time: 10 minutes
Inactive Sous Vide Time: 24-36 hours
Prep Time: 5 minutes
Sous Vide: 1 day
Cook Time: 5 minutes
Total Time: 10 minutes
Servings: 6