Pulled pork vinegar sauce is tasty and piquant, and it is also the concluding sauce when you are serving pork.
The Carolina Vinegar BBQ Sauce comes from North Carolina. With just six ingredients, you can easily make this sauce.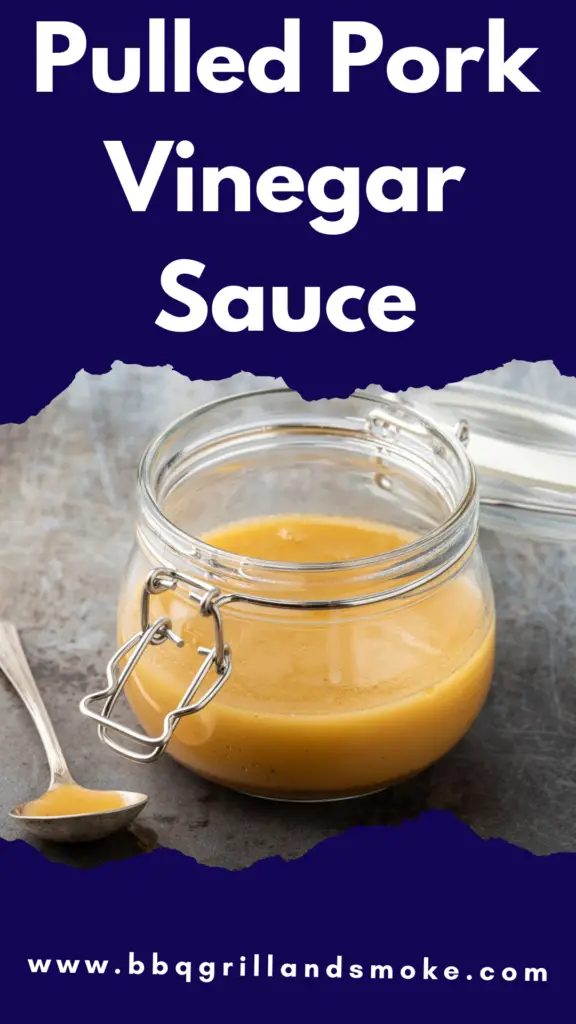 If you are the type that takes your pork BBQ with a passion, I would strongly recommend this traditional sauce to you.
I can say that it is not just right to have a Southern pulled pork sandwich without the Carolina Vinegar Sauce.
Carolina Vinegar BBQ Sauce
First, you can be sure that this vinegar sauce is spicy with a peppery kick. You can also easily make this vinegar sauce with just six ingredients.
When it comes to pulled pork, is a first-rate sauce. It is also perfect to serve with chicken and ribs, and lastly, this recipe is completely addictive.
Apple cider vinegar is the foundation of the recipe and it helps bring a powerful acidic flavor that goes extremely well with rich, smoked pork.
The flavor of the vinegar settles just a little bit. This happens with the addition of brown sugar and ketchup.
You will also get a tangy kick that is totally captivating if you take the sauce over the top with red pepper flakes and black pepper.
North Carolina-Style Pulled Pork with Vinegar Sauce
This pulled pork is accompanied by an irresistible North Carolina BBQ sauce. Below will be the laid-out instructions on how to go about everything.
Ingredients
Servings: 6 to 8 servings
Pork
2 tablespoons of packed dark brown sugar.
4 teaspoons of Hungarian sweet paprika.
1 tablespoon of kosher salt
1 teaspoon of English mustard powder
1 teaspoon of freshly ground black pepper
3 pounds of boneless pork shoulder (sliced into 1 –inch-thick slices)
1 teaspoon of onion powder.
2 tablespoons of olive oil.
2 cups of low-salt chicken broth.
1 cup of beer (beer like a lager, amber, or Pilsner)
Vinegar Sauce
1 ½ cups of apple cider vinegar
¾ cup of ketchup
1 tablespoon of Worcestershire sauce.
4 teaspoons of packed dark brown sugar.
2 teaspoons of kosher salt
½ teaspoon of crushed red pepper flakes
½ teaspoon of Dijon mustard
Laid-Out Instructions for Pulled Pork Vinegar Sauce
You are to get the first 6 ingredients, then you proceed to mix them all together in a medium bowl. And, with that being done, you can now add the pork and toss it to coat.
Afterward, you can proceed to cover it, then place it in the refrigerator to refrigerate it overnight.
You can click the warm button. I will suggest that you set the timer for 30 minutes. However, as required, you can either add or subtract the time.
After that is done, you are to click the start button to heat the pressure cooker. Get a pot and heat the oil in it.
You can proceed to add the pork and allow it to cook until it becomes brown. You are to work in batches.
When that is done, you are to get a plate and transfer them to it. Also, add beer, broth, browned pork, and any juices that you can find on the plate to the pot.
Then, you can proceed to close and lock the lid in place, making sure that the vent is sealed. You can then proceed to click the warm button and also set the timer for 42 minutes.
Also, press the start button to begin cooking. Open the vent to release the pressure manually. You should also remove the lid.
With that being done, you can now transfer the pork to a plate and allow it to cool. Make sure you get rid of the cooking liquid.
Vinegar Sauce
You are to get a cleaned pot and then combine all the ingredients in it. You can then proceed to click the warm button and also set the timer for 15 minutes.
With that being done, you can now click the start button. Also, bring it to a simmer. And, allow it to cook for 15 minutes.
And, with all that going on, you are to go ahead and shred the pork with the help of your fingers, and then serve it with vinegar sauce.
Frequently Asked Questions about Pulled Pork Vinegar Sauce
Can You Make Pulled Pork Vinegar Sauce Ahead Of Time?
You might want to ask this question whether you can make it ahead of time. Of course, the short answer to this is yes.
It is actually perfect that you make this vinegar sauce a day ahead of time, at a minimum. If you can, you can make it 3 to 4 days ahead of time.
However, this does not mean that it can't be used immediately, but you will allow the flavors to develop further if you allow it to sit.
How Do You Store Pulled Pork Vinegar Sauce?
And, for storage, you are to allow your sauce to cool once it is made before you proceed to transfer it to an airtight bottle or jar.
Doing it this way and keeping it quite well in the fridge will allow it to last for up to 3 weeks. However, I will advise that you avoid allowing it to freeze and then thaw it.
You can make use of the vinegar sauce immediately after you bring it out of the fridge, or based on your taste and preference, you can reheat it gently on the stovetop.
Is Pulled Pork Vinegar Sauce Spicy?
Well, you can ask if the vinegar sauce is spicy. This North Carolina-style BBQ sauce surely has a bit of a kick to it.
And, this is due to the red pepper flakes present. However, it is not an immense level of sauce.
But, you can always add in a pinch of cayenne or add some hot sauce, if what you want is something spicier.
Nevertheless, you can also always reduce the number of red pepper flakes, or choose not to use them at all, if you are not a fan of spice.
Conclusion on Pulled Pork Vinegar Sauce
When you pour vinegar sauce onto cooked pulled pork and then serve it in a bun, you can be sure that the feeling and taste are both breathtaking and mouth-watering.
However, for more taste, you can also pour it over some grilled chicken slices. And, then proceed to serve it along with your favorite sides.
Favorite sides such as vinegar coleslaw, air fryer fried pickles, easy air fryer baked potatoes, and southern potato salad.
You should note that you are to simmer the sauce, not boil it. And, you are to allow the sauce to cool off completely before you proceed to store it.
This is if you are making it ahead of time. You have to always shake it up every time you want to use it, as the spices tend to always settle at the bottom where they sit.
So, with all that being said, this will be the wrap-up of this guide on "Pulled Pork Vinegar Sauce."