This best-smoked chicken rub recipe is an easy seasoning for smoking chicken that is filled with tasty flavors and has a crunchy skin exterior.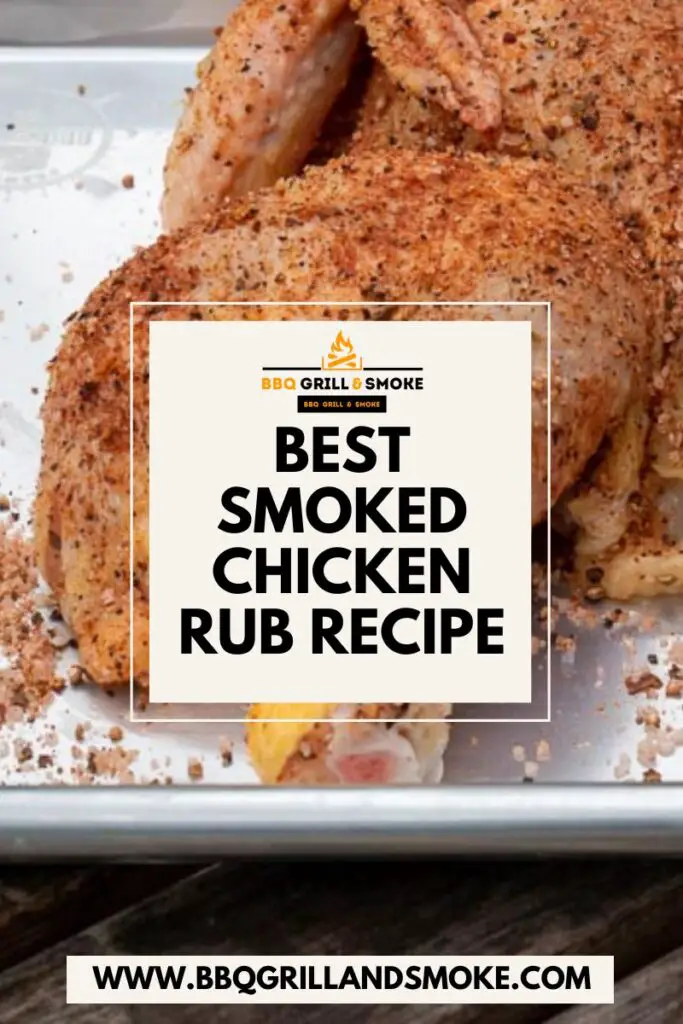 A simple way to smoke chicken that is soft and succulent on the inside and filled with savory flavors and a crunchy skin exterior is by using a smoked chicken rib.
There are a few reasons why smoking chicken is increasingly popular.
The first is thanks to the fact that it is one of the simplest and most inexpensive ways to feed a crowd.
The second is due to the fact that it is an effortless way to include moisture and flavor in a protein that is mostly overcooked and underseasoned.
What Is Smoked Chicken Rub?
Before I get down to the best recipe for a smoked chicken rub, it is better to know what smoked chicken rub is.
And, to answer that question, it is a combination of seasonings and spices.
For instance, black pepper, brown sugar, paprika, garlic powder, onion powder, chili powder, and cayenne pepper.
Before you make barbecue chicken or smoke the meat in a smoker, you can coat an entire chicken with this spice mixture, and the same goes for chicken thighs, chicken breasts, chicken legs, and chicken wings.
Normally, the rub's ingredients are sweet, smoky, and tangy. They normally cook with the intention of completing a barbecue sauce.
Smoked Chicken Rub Recipes
Course: Main Course
Cuisine: American
Prep Time: 10 minutes
Cook Time: 0 minutes
Total Time: 10 minutes
Servings: 4 servings.
Ingredients
1 teaspoon of chili powder
½ teaspoon of cumin (ground)
2 teaspoons of brown sugar
1 ½ teaspoons of kosher salt
1 teaspoon of black pepper
1 teaspoon of smoked paprika
½ teaspoon of chipotle powder
½ teaspoon of garlic powder
Laid-Out Instructions
The first step to this is for you to get a small bowl and mix the smoked paprika, cumin, brown sugar, garlic powder, chili powder, and chipotle powder with the salt and pepper in it.
After that, you are to coat the meat with the rub. Make sure you take your time with this to get it under the skin and in every corner.
That being done, use a smoking temp between 225 degrees Fahrenheit (107 degrees Celsius) and 250 degrees Fahrenheit (121 degrees Celsius).
However, this is determined by the cuts that are being smoked. And, then, make sure the meat is smoked until its internal temperature gets to 165 degrees Fahrenheit (74 degrees Celsius).
How to Store Smoked Chicken Rub
To store this simple smoked chicken rub, just place it in a tightly sealed container like a glass jar or a resealable bag in a cool, dry place.
However, do ensure that you keep it away from heat and sunlight.
For instance, some excellent locations to store your chicken spice rub are the kitchen cabinet or the pantry.
This rub will last up to 6 months, although this is if it is stored properly.
But, I strongly suggest you use this rub within 2 months if you intend to get the perfect flavor.
I will also suggest that you date and label the bag or jar. And, you can store the best smoked chicken rub in the freezer in a resealable bag for perfect freshness.
This will make it remain fresh and sweet-scented and also make it last up to a year.
How to Use Smoked Chicken Rubs
If you have a smoker, you can use this best spice rub for the best-smoked chicken recipe.
Or, you can use it as a rub for chicken wings or turkey. And, as mentioned above, you can use it as a rub for grilled chicken, fried chicken breasts, fried chicken thighs, or whole roasted chicken.
This simple recipe for a smoked chicken rub is also a perfect option for pork ribs, boneless pork ribs, brisket, or any smoked meat.
You can also use it on fish. Before you grill, just add a pinch or two of this best chicken rub the next time you grill a piece of salmon.
Chicken Rub FAQs
What Cuts of Meat Can I Use?
Fortunately for you, if you are looking for a rub to use on any cut of poultry, this is the ideal chicken spice mixture for you.
I recommend you use about 1 to 1.5 ounces of the following:
Chicken wings
Whole chicken
Chicken legs
Chicken breast
Chicken thighs
You can also use this chicken rub on vegetables such as smashed potatoes, red foil-pack potatoes, and grilled brussel sprouts.
How Long Should Dry Rub Sit On Chicken?
I strongly suggest you refrigerate the chicken with the dry rub overnight, as this will help result in optimal flavor.
Doing this will permit the spices and salt to fill the meat.
How Do You Keep Chicken Moist When Smoking?
The first step to keeping a chicken moist when cooking is to refrigerate it overnight with a spiced dry brine.
Doing this will bring moisture into the meat. Secondly, you can also use olive oil in the spice rub.
And, this will definitely help to keep the chicken moist and, at the same time, crisp up the skin of the chicken.
How Long Before Cooking Do You Apply Dry Rub?
For optimal results, I suggest you allow the rub to sit on the meat for at least 15 minutes and up to 2 hours.
And, if you are not cooking right away, do ensure that you place the meat back in the fridge.
Normally, I do coat the meat with the rub, then proceed to warm up the grill.
And, when the grill is heated, the meat will also be ready to be placed on the grill.
Given the fact that the meat is smoked, it is cooked at a lower temp, and the rub will be provided with so much time to work its magic.
Can You Use A Dry Rub and BBQ Sauce?
There are a lot of people who would prefer barbecue sauce on their meat.
The good news is that barbecue sauce can be used with a dry rub. However, I suggest you apply it during the last few minutes of cooking.
Final Thoughts on Recipe for Smoked Chicken Rub
I strongly suggest you go for the freshest ingredients that you can find.
For instance, around 9 months after the spices are opened, they are very likely to lose their flavor and aroma.
Using a paper towel, make sure you pat dry the meat, as this will help get rid of moisture to prevent the rub from escaping.
Lastly, I recommend you place the spice rub in an electric salt and pepper grinder.
This will allow it to be ready to use whenever you are, and it is a cinch to use.
That being said, this concludes this guide with detailed information on the best-smoked chicken rub recipe that has been given.