Creamy ricotta cheese is most often the only ingredient a cannoli filling recipe is made with.
The traditional Italian cannoli recipe came from Sicily, but in no time, Italians throughout the world took this legendary dessert over.
However, mascarpone cheese is added to the ricotta cream mixture in the best cannoli recipes.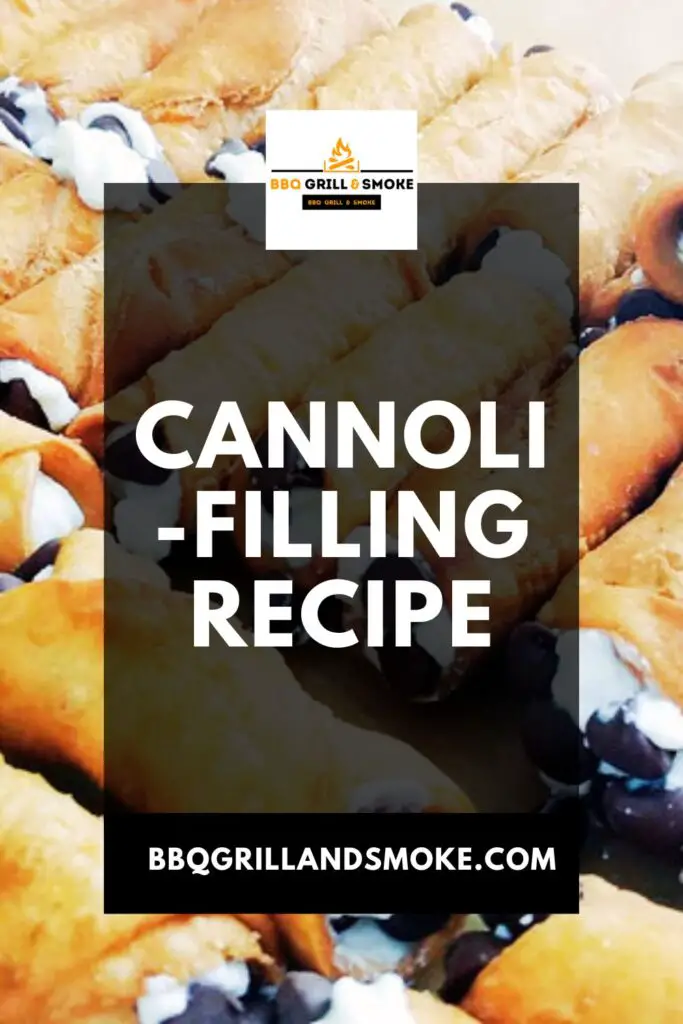 Doing this will yield a cannoli filling that is extra smooth and creamy.
Most times, candied fruit is added to the cannoli cream in the case of Sicilian cannoli.
That being said, little pieces of dark chocolate were added to the ricotta filling rather than candied fruit as this Italian dessert moved north.
I suggest that you check with your local grocery store to see if they stock cannoli shells, although you can make your own shells.
You can also ask the manager of the bakery department if you don't see them, as they can sometimes order them or sell you the shells they have on their hands.
Cannoli Filling
With a light dusting of cinnamon, homemade whipped cream, a whole lemon's worth of zest, and just enough sugar, along with light, smooth, creamy ricotta, for a blissful balance of spicy and sweet.
Just thinking about it alone, this recipe for rich cannoli filling is so delicious, so imagine how it would be when you took a bite.
Although this might be a result of my little obsession with cannoli recipes, thanks to their creamy and crispy textures and lemon flavor.
This is more or less everything you could possibly want in an Italian dessert.
Recipe for Cannoli Filling
This cannoli filling is a rich and creamy sweet cheese mixture that is made with a blend of ricotta and mascarpone cheese.
Traditionally, it is used to make the Italian dessert commonly referred to as cannoli, but it can also be used as a filling for sandwich cookies and cakes.
Course: Dessert
Cuisine: American
Prep Time: 10 minutes
Cook Time: 0 minute
Total Time: 10 minutes
Servings: 8
Ingredients
8 cannoli shells
¾ cup of full-fat ricotta cheese (drained)
¼ cup of chocolate candy melts
1 teaspoon of shortening or refined coconut oil
1 cup of BelGioioso mascarpone cheese
¼ cup of powdered sugar
½ cup of mini chocolate chips
¼ teaspoon of ground cinnamon
1 teaspoon of vanilla extract
Laid-Out Instructions
First, line a fine mesh strainer with cheesecloth to drain the ricotta. After that, place the strainer over a bowl and add the ricotta to the strainer.
Now, allow the ricotta to drain in the fridge overnight. That being done, get a mixing bowl and add the drained ricotta and mascarpone cheese to it.
Get a spatula and stir it with it until it is well blended. Also, add the powdered sugar, cinnamon, and vanilla extract to the cheese mixture.
Again, stir with the spatula until it becomes well blended, and fold in the mini chocolate chips just until combined.
Afterward, get a piping bag with just a coupler or large round tip and place the cannoli filling in it.
However, you can also use a storage bag; all you need to do is cut a larger hole in one of the corners, then set it aside.
After that, get a small microwave-safe bowl and add the melted chocolate and shortening.
Just microwave in 30-second intervals and stir after every interval. To completely melt the chocolate, that will take around 3 intervals.
When that is done, dip both ends of the cannoli into the chocolate and place it on a piece of wax paper to set it up.
The setup will only require a few minutes, and then you'll be ready.
Keep in mind that you can add sprinkles while the chocolate is still wet, particularly if you are interested in jazzing up the shells a bit more.
Now, proceed to fill both sides of the cannoli with the filling after the chocolate is set up.
And I strongly suggest that you place it in the fridge in a tightly sealed container until you are ready to serve it.
Storing and Serving
To store the filling, get a piping bag fitted with a pastry tip and keep the filling in it. This will allow it to last for up to 3 days in the fridge.
That way, you can make it one day and then proceed to bake the cannoli shells the next day.
Note that you should avoid filling your cannoli shells until you are ready to serve them, as they will get mushy and soggy.
Cannoli Filling FAQs
What Is Cannoli Filling Made Of?
As previously stated, traditionally, it is made with ricotta cheese and sugar.
However, as it is made today, it also has whipping cream, whipped and sweetened with sugar.
That being said, also keep in mind that the recipe differs based on individuals.
You can also include lemon zest, chocolate chips, and cinnamon in yours.
How Long Does This Filling Last?
Sadly, this filling will not last long in the refrigerator with fresh ingredients such as ricotta cheese and whipped cream in it.
I strongly suggest that you keep it in a tightly sealed container and place it in the fridge for no more than two days.
I also highly recommend that you avoid freezing the filling, given the fact that the ricotta cheese and the freshly whipped cream do not freeze and defrost well.
Where Does Cannoli Come From?
The answer to this question has already been given above. These Italian pastries originated on the island of Sicily, in the city of Palermo.
So, it is no surprise that they are a staple of Sicilian cuisine, although they are also a staple of Italian-American cuisine.
How Do You Thicken Up The Filling?
This will help show that it is essential that you make sure you drain the ricotta before you use it in the filling.
Although you can still thicken it up with a few ground almonds that you process in a blender or food processor until they are more or less like almond powder, this is only if the filling begins to become runny.
Final Thoughts on Cannoli-Filling Recipe
Just add sprinkles, mini chocolate chips, and chopped pistachios if you are interested in fun toppings.
And, if you intend to keep the shells firm and crispy, I recommend that you fill the cannoli shells before serving.
But you can also leave the mini chocolate chips out of the filling and sprinkle them on top afterward if you intend to use a star tip.
With that being said, you now have the best cannoli-filling recipe, which concludes this guide.