This best stovetop corn-on-the-cob recipe is so easy and fast. So, you can also easily make boiled corn on the cob on your stovetop using a pot or saucepan.
The stove-top boiled corn on the cob with butter is soft, intact, tasty, and kid-friendly.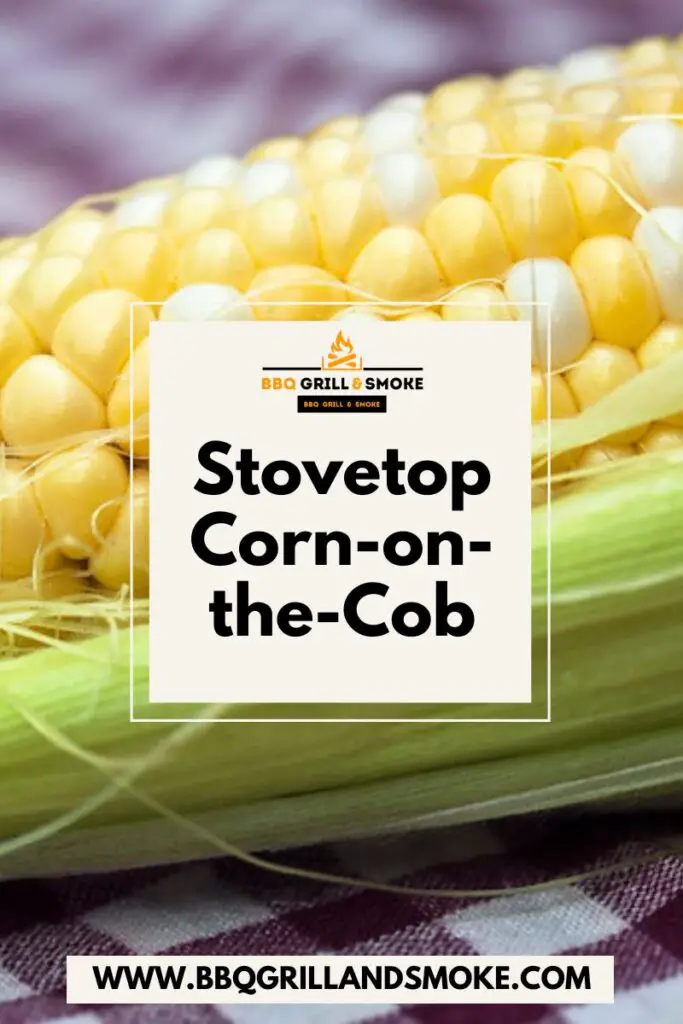 Even if you have never made corn on the cob before and are also a beginner in cooking, this recipe for the best stovetop corn on the cob is something you can easily try.
This stovetop boiled corn on the cob makes a simple but perfect side dish for Christmas dinner, Thanksgiving, any summer BBQ, or just anytime you crave fresh corn.
Stovetop Corn-on-the-Cob
The interesting thing about corn is that it is delicious any way you can make it, whether oven-roasted, cooked on the stovetop, grilled, or wrapped in bacon.
However, as you know, this recipe is all about stovetop corn. This recipe is about as simple as it can be, and in around 20 minutes, you will be eating sweet corn on the cob.
It also has the perfect touch of sweetness, and the result will still be quite incredible even when you are impatient.
A perfectly sweetened fresh corn on the cob that is prepared on the stovetop yields the perfect corn on the cob, and it will also be ready in no time.
Perfect Stovetop Corn on the Cob
Adding any additional flavors or spices to the perfect boiled corn on the cob won't be a requirement, but based on your preference, you can always flavor them easily with spices such as garlic powder, ground black pepper, or more spreadable salted butter as much as you like.
So, let's get right into it with the best stovetop corn on the cob that makes for a delectable side for lunch or dinner.
Cuisine: American
Course: Side Dish
Method: Stovetop
Prep Time: 5 minutes
Cook Time: 15 minutes
Total Time: 20 minutes
Servings: 6
Ingredients
6 ears of corn (shucked and rinsed)
Salt and pepper (to taste)
¼ cup of granulated sugar
3 tablespoons of butter
Laid-Out Instructions
First, get a large 12-quart pot and fill it ¾ full with water. After that, cover the pot and bring it to a boil over medium-high heat.
That being done, proceed to remove the cover, then add the corn and sugar. Afterward, cover it back up.
Now, turn off the heat, and for at least 10 minutes, allow it to sit in the covered pot to create perfectly tender corn.
After that, allow the corn to keep warm in the water until it is ready to serve. This should take up to an hour.
When that is done, proceed and remove the corn from the water to serve.
Make sure you spread each piece with ½ tablespoon of butter and sprinkle with salt and pepper to taste, then proceed to serve and enjoy.
Boiled Corn on the Cob Serving Suggestions
Adding grilled corn to salads and tacos is always a great option, but you'd sure be tempted to eat it off the cob when it comes to boiling corn.
But my favorite when it comes to serving boiled corn on the cob is with salt, pepper, and butter, but there are still more possibilities.
Below are a few of my ideas to jazz this up:
Just sprinkle it in a scrumptious sauce, such as vegan ranch or chipotle sauce.
Or, spice it up, and to do that, you will have to spray it with smoked paprika or chili powder.
Rather than regular butter, you can go for compound butter.
You can also drizzle it with fresh herbs. I suggest you try either chives, cilantro, or basil.
Lastly, you can make Mexican-style corn on the cob. Just brush the corn with adobo sauce from a can of chipotles and top it with crumbled Cotija cheese. This is after you boil it.
In addition, you can complete the meat with cookout fare such as black bean burgers, veggie burgers, BBQ jackfruit sandwiches, and a fresh summer salad.
Another option is to serve your cooked corn on the cob as a side dish with anything of your choosing.
How to Store Corn on the Cob
First, get an airtight container and store your leftovers, if you have any, in it, or you can just wrap them in foil and place them in the refrigerator. This will allow them to last for up to 5 days.
Can You Freeze Corn on the Cob?
In my opinion, I consider freezing the corn on the cob before boiling it is the best option.
Recipe FAQs
When Is Corn on the Cob Done Boiling?
When the kernels are bright yellow and soft, you will know that the corn on the cob is done boiling.
How Long to Boil Corn on the Cob
In the covered pot, six ears of corn on the cob should be perfectly boiled after around 15 minutes.
However, it is important that you keep in mind that you will place the corn in the boiling water, cover the pot, and turn off the heat when you follow this simple recipe. This is to say that the heat will not be on the whole time.
How to Cook Corn on the Cob
Well, you will find a detailed ingredient list and laid-out instructions on how to make stovetop corn on the cob above.
How to Tell When Your Corn Is Done Boiling
There's actually an issue with how long it takes to boil corn and more issues with the fact that there aren't excellent indicators as to when it's done.
However, as previously stated, they will appear bright yellow, look a bit plumper, and be tender and juicy.
Just drop your corn into the boiling water with tongs. After that, return the water to a boil and cook your corn for 5 minutes.
The kernels can become tough if you allow your corn to overcook, so I suggest you set a timer.
I'm sure the result you want is juicy, crispy kernels, not mushy, dry ones.
Also, remember that normally, fresh corn cooks faster than older corn, and you can alter the cook times as required.
Final Thoughts on Stovetop Corn-on-the-Cob
For up to an hour, you can let the corn remain warm in the water until you are ready to serve it.
You can also stay away from adding salt to the pot of water, given that it makes the skin of the kernels tougher and does not yield yummy corn.
Well, since you now have the best stovetop corn-on-the-cob recipe, you can get to cooking.