How long to grill ribs? This is a question asked by many. Some factors determine how long to grill ribs. One of which is how high the temperature of your smoker is. The temperature of your smoker is a major determinant of how long it will take you to grill your ribs.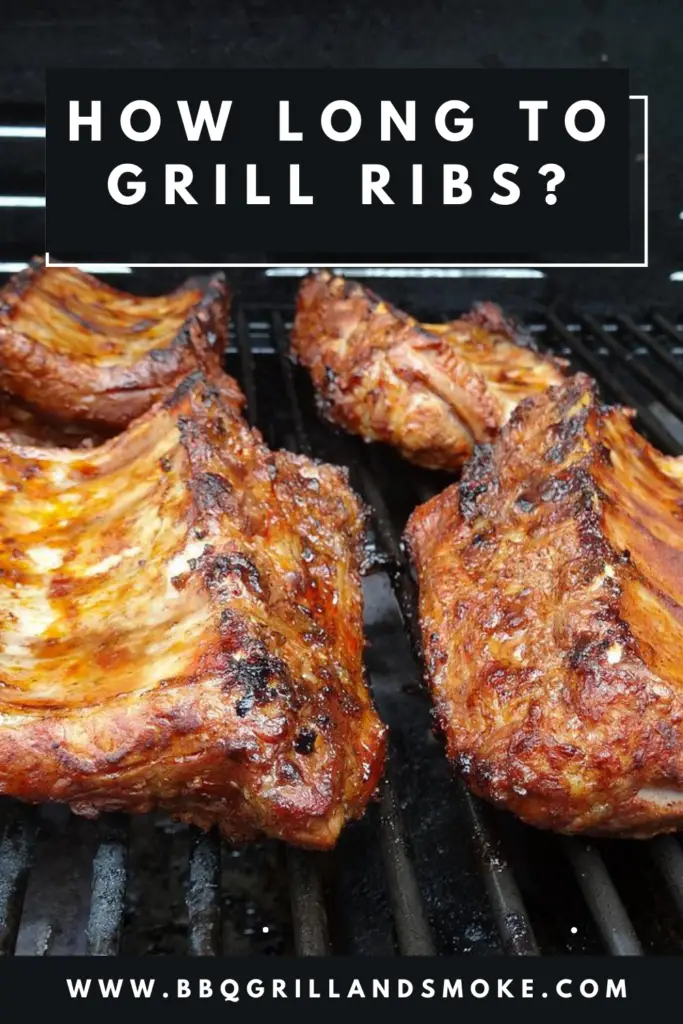 And, you should also know for a fact that there are different types of pork ribs and the time they take to cook differs.
The way you like your pork ribs and also the way you like to cook them are also part of the determinants of how long it takes to grill them.
So, this is to say there's no single answer for this question as it differs based on some factors which a few have been mentioned above.
But, that does not mean have got no answer for you, below will be my thoughts and findings on how long to grill ribs.
And, a quick interesting information about ribs is that there is no skill or trick needed when it comes to eating and enjoying it as it is something you will love doing naturally.
Now, let's get into the details of this guide by also looking into some other related questions to the main topic.
How Long Do You Cook Pork Ribs On the Grill?
Using an instant-read thermometer to gauge the condition of the cooked meat on the grill and whether it has reached your desired degree is the normal and general thing to do.
But, this won't be necessary for this method as it might be somewhat tricky or difficult for it.
The temperature of the grill that is required to cook the pork ribs needs to be set to around 190 degrees Fahrenheit to 200 degrees Fahrenheit as this is will assist in the breaking down of the fat and collagen which will then produce pork ribs with soft, juicy finished texture.
And, I strongly recommend, that you make sure that your pork ribs are done around 145 degrees Fahrenheit.
You should also know that you will need to unwrap the ribs from their foil to place the thermometer as this is the only way to get it done.
And, placing your ribs over a direct medium heat which can either be charcoal or gas for 1 hour will result in soft and juicy ribs that do not fall off the bone.
You also need to return the ribs on the grill unwrapped and this process should go on for around 10 minutes to 12 minutes.
This is to permit the ribs to infuse the hickory smoke and add a barbecue sauce taste to it.
During these minutes of returning the ribs on the grill unwrapped, all that is done is just you permeating the ribs with flavors which also means you are not cooking it anymore.
How Long To Grill Ribs On A Charcoal Grill?
As mentioned above, the cooking period is dependent on the temperature of the grill.
All you are required to do here is to maintain the harmonious temperature of the grill which is set around 225 degrees Fahrenheit.
Cooking it low and slow is all that is needed as it also gives you a good amount of time to prepare.
The estimated cooking period will be 5 hours at the minimum if you are to set the temperature at 225 degrees Fahrenheit.
You should also know that even if you get an internal temperature of the ribs around 190 degrees Fahrenheit, it does not mean it's done even though this is the needed internal temperature.
This is because the breaking down of the connective tissues which will make the ribs soft and juicy takes a good amount of time to occur.
So, at times, it is needed to take them and slowly increase the temperature to around 205 degrees Fahrenheit.
So, the basic outline for this includes the following;
3 hours of smoking – uncovered
2 hours of cooking – covered in foil
1 hour of cooking uncovered at a very high temperature till it's done.
The cooking time for your ribs can either be more or less as this is dependent on the grill you are using.
You should not forget to flip the ribs over, inspect the fire, and make use of a good smoking wood of your choice for the smoking of your ribs.
And, you should also check and examine your water pan every half an hour but, this is if you make use of it.
You should look out for the doneness of the ribs and not the time or temperature and make sure you are prepared to serve your delicious ribs.
Best Ever Grilled Ribs Recipe
Since we have discussed in detail how it might take to grill ribs, it will be right to go over a recipe for the best-ever grilled ribs.
Yield: 6 servings to 8 servings
Preparation Time: 15 minutes
Total Time: 2 hours 15 minutes
Ingredients
For The Spice Rub
¼ cup of light brown sugar
2 tablespoons of smoked paprika
1 ½ tablespoon of onion powder
1 ½ tablespoon of garlic powder
1 ½ tablespoon of kosher salt
1 tablespoon of ground black pepper
½ tablespoon of ground cayenne pepper (non-compulsory)
For The Grilled Ribs
2 racks of baby back ribs (around 5 pounds to 6 pounds total)
3 tablespoons of vegetable oil, and more for oiling the grates
½ cup of chicken stock
¼ cup of apple cider vinegar
1 ½ cup of BBQ sauce
Laid-Out Instructions
Conclusion on How Long To Grill Ribs
You can get to make use of a charcoal grill or a gas grill to grill your ribs to your satisfaction.
And, as detailed above, some factors determine the cooking time of ribs, one of which is the type of cut you choose.
Cooking at 225 degrees Fahrenheit, the estimated cooking time for baby backs will be 4 hours to 5 hours 30 minutes and while for St. Louis-style/spares, it will take 5 hours to 6 hours 30 minutes.
So, I'm certain that this guide has explained in detail all there is from my findings of how long to grill ribs.