In this guide, you will be given the Best Cypriot Halloumi Pie Recipe. You need to remember that Cypriot Tiropita is made differently than Greek Tiropita.
This delicious halloumi pie is baked in a ring tin and comes with sweet and tasty flavors too.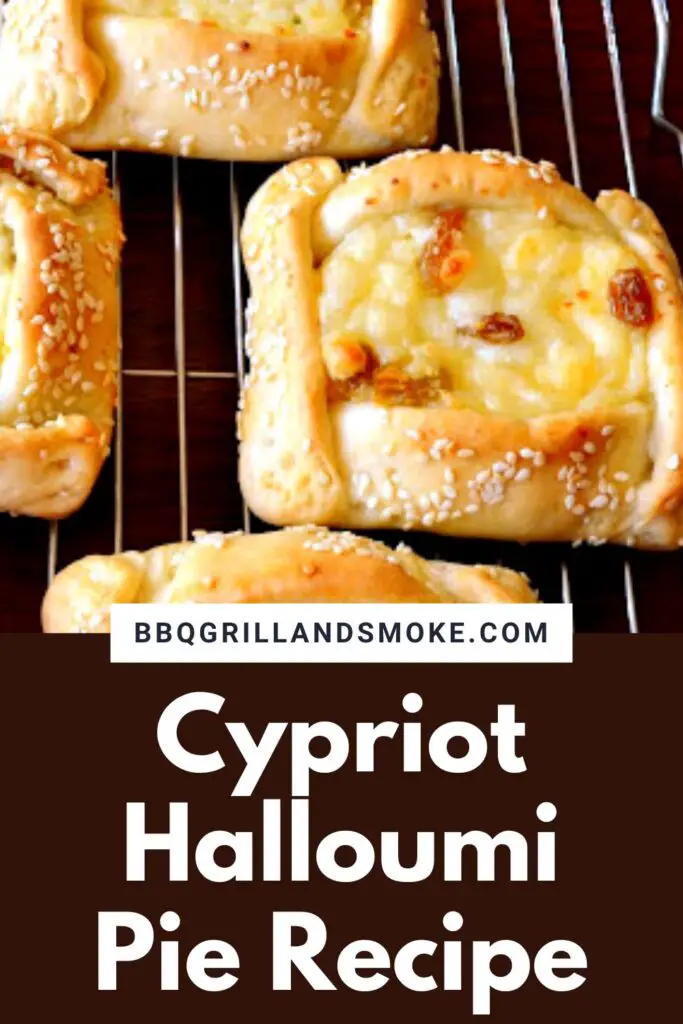 Typically, the Greek tiropita is wrapped up in filo pastry, whereas this Cypriot version leaves out the pastry and is baked similarly to a cake in a ring tin.
The word "tiro" refers to cheese, and "pita" means pie. And the pronunciation of this word is tee-RO-pee-tah.
This would be made traditionally with a hardened, or village, halloumi. However, you can also use regular halloumi.
You can also add sultanas, as they give this pie a sweetness that goes without saying. Although you can still make the pie more tasty by leaving these out.
Cypriot Halloumi Cheese Pie
Cypriot halloumi cheese pie is a salty snack and a good option for breakfast. This pie is always enjoyable and savory.
It can be enjoyed as a snack or as a side to a salad, with a Portokalada, lemonade, or even coffee with friends or loved ones.
It is also traditional for it to be served at a birthday party, but you will need to bake the mixture in small individual molds.
Kypriaki Tyropita
Kypriaki Tyropita is a delectable Cypriot cake that is made with oil, eggs, milk, lots of mint, and majorly halloumi.
And, as previously mentioned, tyropita is pronounced as tee-RHO-pee-tah, which also means cheese from the words tyri (cheese) and pita (pie).
There is an extremely wide meaning for the word "tyropita," and it can actually be anything with cheese, made with store-bought phyllo pastry, kourou pastry, homemade phyllo, puff pastry, kataifi pastry, or bread dough and cheese in it.
This is something we make during Easter: savory bread (cake) with eggs or even a sweet pastry.
The type of cheese you can use for this recipe is limitless, ranging from graviera, feta, myzithra, anthotyros, kefalotyri, kefalograviera, Paphitiko cheese, and halloumi. As said, the list is endless.
However, this Kypriaki Tyropita is mainly made with halloumi, but a mixture of the above cheeses can be combined, or even some cheese from other countries can be alternated too.
In Cyprus, this is the kind of breakfast that we have. As you know, it is a halloumi bread or cake that has a lot of mint in it.
And make sure you add some more mint even when you think you've added enough of it.
Normally, the cheese that is used is always aged, homemade halloumi. However, you can always use any kind of halloumi; just ensure you can grate it.
This is also the ideal cheese to be used to make Halloumopita, or Cypriot Tyropita.
Halloumi
Actually, you can use the halloumi from the supermarkets, but I will strongly suggest that you go for the homemade halloumi.
It is quite usual in Cyprus. It is made with goat and ewe milk. Tasting the homemade one will make you know the difference between the two.
Halloumi is always tender, creamy, and rubbery in texture and mildly salty and minty in taste when it is made fresh.
And, as it ages, it becomes harder and saltier, with a much stronger texture, given the fact that it is preserved in brine.
This also makes it easier for it to be grated, and the taste gets much better as it ages.
A Healthy Recipe for Cypriot Halloumi Pie
These Cypriot halloumi pies are made with Cyprus's national cheese.
As previously stated, these are salty snacks that can be enjoyed for breakfast or anytime.
You will find halloumi pies in several shapes and sizes. So, let's get into this simple Cypriot halloumi pie recipe.
Ingredients for the Dough:
500 grams of plain flour
1 teaspoon of sugar
1 teaspoon of salt
360 ml of lukewarm water (you might need more or less as this is based on the flour).
1/3 cup of olive oil
1 teaspoon of dry active yeast
Ingredients for the Filling:
1 teaspoon of salt
250 g of Cypriot halloumi cheese (chopped into small squares)
½ tablespoon of dry mint
1 egg (lightly beaten)
100 g of Cypriot anari (or ricotta)
½ onion (finely chopped)
Sesame seeds (for the top)
2 tablespoons of fresh mint (finely chopped)
Laid-Out Instructions
First, you are to get a small bowl, then whisk together half of your water (around 180 g), the sugar, and the yeast.
After that, you are to set it aside for 10 minutes, or just until the yeast is activated. You will know the yeast is activated when you see bubbles or froth on the surface.
For the time being, get a separate bowl, then proceed to mix the salt, flour, and olive oil and rub with your fingers until the mixture looks like breadcrumbs.
You can now add the yeast mixture to the flour mixture, along with the rest of the water, and knead for 10 minutes.
Make sure that your dough becomes soft to the touch and sticks to your fingers.
If needed, you can also add more water or flour. Allow the dough to double in size; this should take roughly an hour.
With that being done, you are also to get a separate bowl and mix together the halloumi, mint, onion, anari, and salt.
Continue this until they are well combined. That being done, proceed to preheat your oven to 180 degrees Celsius when the dough is ready.
Afterward, you are to roll the dough thinly (around 1 cm) into a rectangle.
Then, spread the cheese mixture on the surface, ensuring that you leave about 5 cm on all sides.
When that is done, proceed to roll the dough into a cylinder shape (it should look like a cinnamon roll).
After that, you are to cut the dough into 8 slices. Then, get a baking tray lined with parchment paper and place the pie pieces on it.
Proceed to brush with some egg wash, and then spray the top with some sesame seeds.
After that, bake for around 45–50 minutes, or until it becomes golden brown.
Final Thoughts on Cypriot Halloumi Pie Recipe
To serve at parties, you can just place and bake the mixture of the cheese pie in individual molds.
Additionally, before baking, you can also add raisins to the dough and spray it with sesame seeds.
And, you can use non-fat milk or coconut milk and low-fat halloumi cheese if you intend to reduce the fat content in this recipe.
That said, this concludes this guide on the Cypriot Halloumi Pie Recipe, as you now have everything you need.