This crispy bacon in oven recipe is your best bet to learn how to cook bacon in the oven perfectly.
For this easy recipe, all you need is a metal baking rack, a tin foil-lined baking dish, and most importantly, bacon. This will yield the most perfect oven-baked you've ever had.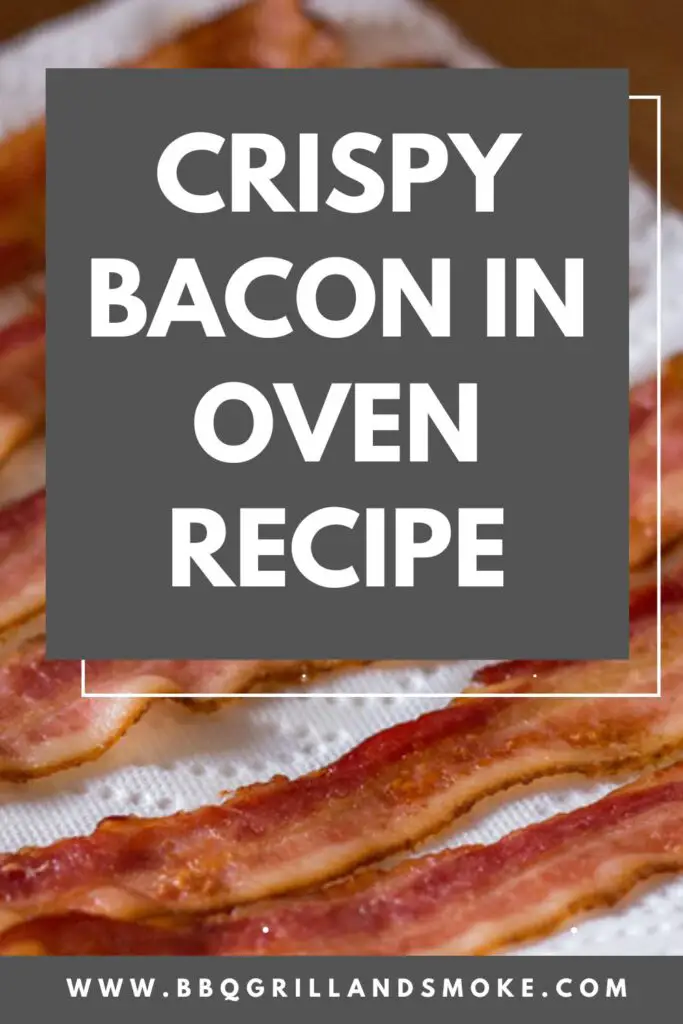 Cooking bacon in the oven is flawless and certainly, the best way to cook bacon, and this goes the same whether you prefer crispy bacon or thick and chewy bacon.
As stated above, baking bacon is obviously the way to go for flawless bacon, particularly when what you want is perfectly cooked, chewy bacon every time you make it.
Actually, cooking bacon in the oven is easier than you think, so in this guide, I will show you how to do it.
For this healthy recipe, all you need is your favorite cut of bacon, a baking sheet, and a wire rack.
What Is Bacon?
Bacon is salt-cured meat cut from the belly or back of a pig. It can be served on its own, paired with meals, or just used as an ingredient in dishes such as soups, salads, sandwiches, and even sweets such as maple bacon ice cream.
Side pork is the most common form of bacon in the United States, and it is cut from the side of the pig.
It is extremely fatty and has long layers of fat running parallel to the rind. And the most common form of bacon in the United Kingdom is back bacon.
It is also commonly referred to as "Irish bacon," "Canadian bacon," or "rasher," and it is gotten from the loin in the middle of the back of the pig.
How to Make Perfect Crispy Bacon in the Oven
Course: Breakfast
Cuisine: American
Prep Time: 1 minute
Cook Time: 12 minutes to 18 minutes
Total Time: 13 minutes to 19 minutes
Servings: 4 to 6 servings
Ingredients
12 ounces of sliced bacon
Equipment
Tongs
Parchment paper or aluminum foil
Platter
Rimmed baking sheet(s)
Paper towels
Laid-Out Instructions
First, you are to heat the oven to 400 degrees Fahrenheit and then proceed to prepare the baking sheet.
Make sure you arrange the rack in the middle of the oven and line a rimmed baking sheet with aluminum foil or parchment paper.
You need to make sure that there is an overhang on all four sides, and if required, there can be an overlap of a few sheets, as this will make the cleanup much easier.
With that being done, you can now arrange the 12 ounces of bacon on the baking sheet. Be sure that it is in a single layer.
There's nothing wrong with the slices being close to each other or touching; however, they should never overlap, or this will make them stick together during cooking.
After that, bake until the bacon is deep golden brown and crispy. For regular bacon, this should take around 14 minutes, and for thick-cut bacon, this will take around 18 minutes.
However, the thickness of the bacon and how crispy you like it will determine the exact baking time.
I suggest you start checking the bacon after 12 minutes. As the bacon cooks, the bacon fat will sputter and bubble; however, it won't be the same way it does on the stovetop.
When that is done, transfer the bacon to the paper towels using tongs. This is to drain it and allow it to finish crisping.
After that, serve immediately. And, if you want to save the bacon grease, allow it to cool slightly, then get a fine-mesh strainer and pour it through it into a heatproof container and refrigerate.
Just allow it to solidify on the baking sheet, crumple the foil or paper around it, and get rid of it if you have no interest in saving the grease.
How to Store Cooked Bacon
First, you are to allow it to cool completely, then proceed to transfer it into a tightly sealed container and store it in the fridge. This will allow it to last for up to 3–5 days.
How to Reheat Cooked Bacon
Using a microwave is the easiest way to reheat cooked bacon. All you need to do is place the bacon on a microwave-safe plate.
After that, place a piece of paper towel on top of it, then proceed to microwave on high for 60–90 seconds or until it becomes hot.
Ways to Serve Baked Bacon
Below are some serving ideas that you can take advantage of:
Side Dishes
You can use bacon to jazz up Southern fried cabbage, crispy pan-fried Brussels sprouts, or even rice or cauliflower rice.
Appetizers
This perfect baked bacon recipe is great to use as part of an appetizer such as jalapeno poppers, a creamy cheese ball, or bacon deviled eggs.
Salads
It is also a classic on a broccoli-bacon salad, wedge salad, or Cobb salad.
Breakfast
You can serve it on the side with easy oven-baked eggs, an omelet, almond flour pancakes, or healthy banana oat pancakes.
Recipe FAQs
Can You Bake Bacon Without Foil Or Parchment Paper?
Of course, you can, but it will definitely be messy. When it comes to baking bacon, foil is the best option, given the fact that you can toss some used napkins or paper towels on the tray to absorb the grease in no time.
After that, you can wrap up the entire thing and throw it straight into the trash; this is if you have no interest in saving the bacon grease.
Should You Flip Bacon In The Oven?
The short and simple answer to this question is no. You actually don't need to flip the bacon that you are cooking in the oven.
However, you can constantly rotate the baking tray if your oven has a hot spot in the back or front and you don't want to risk burning any portions with too much-concentrated heat.
And you can also put the tray in the oven and leave it there until you are ready to pull it out.
Final Thoughts on Crispy Bacon in Oven
If you want even crispier bacon, all you need to do is fit a metal rack over the lined baking sheet and place the bacon on the rack before you bake.
This will permit the bacon to cook from all sides and, in turn, become extremely crispy. You can also store the leftover bacon in the freezer.
This will make it last for up to 3 months. This concludes this guide on making crispy bacon in the oven, as you now have the perfect recipe for it.