You can make delicious, savory asparagus wrapped in bacon in oven with just three ingredients, in addition to salt and pepper.
And you will need just 15 minutes of prep time for this easy recipe.
You can also enjoy these asparagus bundles wrapped in salty, smoky bacon, which is definitely a crowd-pleasing appetizer.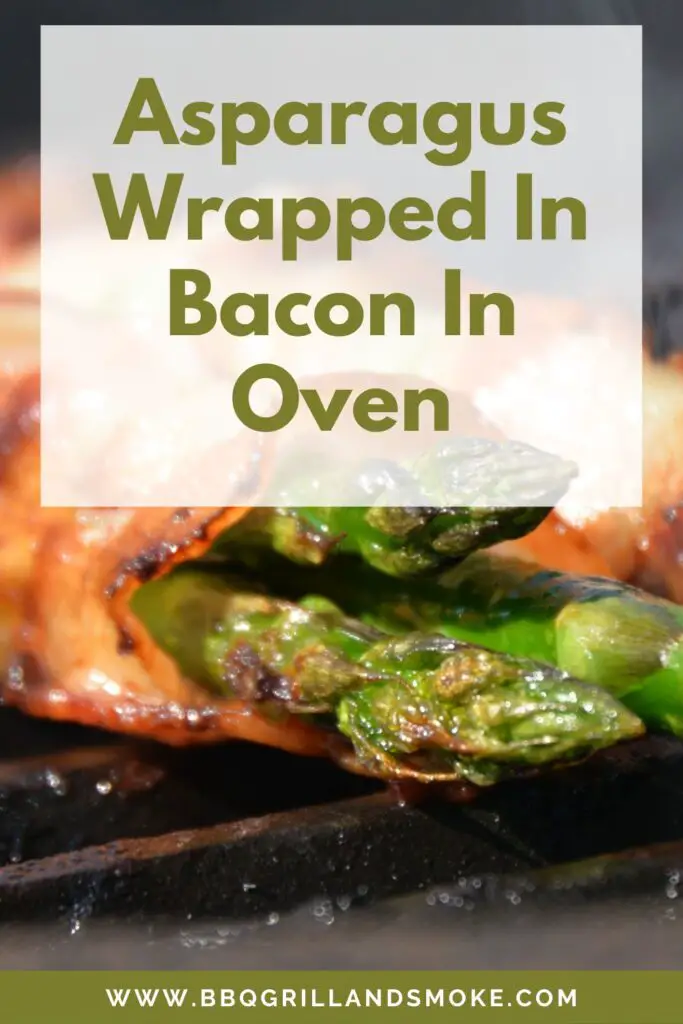 And it can also serve as a mouth-watering side dish. All you need to do to achieve this is follow the simple tips and techniques that will be given in this recipe.
With this best bacon-wrapped asparagus, you will never have overcooked asparagus or soggy bacon.
You will also be able to adjust the recipe to suit your exact tastes. So, let's get right into the simple recipe for asparagus wrapped in bacon in the oven.
Bacon Wrapped Asparagus
This best recipe for bacon-wrapped asparagus in the oven includes tips to make it extra crispy.
As previously mentioned, this asparagus wrapped in bacon will take less than 30 minutes.
With this bacon-wrapped asparagus recipe in the oven, you have two perfect foods together.
You will definitely enjoy this asparagus wrapped in bacon as a healthy appetizer if you are a fan of bacon main dishes such as bacon-wrapped chicken tenders or bacon-wrapped dates.
In this guide, you will learn how to make wrapped asparagus in bacon that will become perfectly crispy every time.
Bacon Wrapped Asparagus in the Oven
This succulent asparagus and crispy bacon wrapped in bundles and roasted in the oven are a mouth-watering side dish. This is what everyone at your table will love.
Course: Appetizer
Cuisine: American
Prep Time: 15 minutes
Cook Time: 20 minutes
Total Time: 35 minutes
Servings: 6 servings
Ingredients
6 strips of bacon (halved crosswise)
Kosher salt (to taste)
Freshly ground black pepper (to taste)
1 pound of medium asparagus (20–30 spears)
1 tablespoon of olive oil
Laid-Out Instructions
First, you are to preheat the oven to 425 degrees Fahrenheit, then proceed to place an oven-safe rack inside a parchment-lined baking sheet.
This is done so as to make the cleanup easy. After that, you can now get a large bowl and place the trimmed asparagus in it or on a second baking sheet.
That being done, you can now spray with olive oil and season with salt and pepper. Also, toss to coat evenly.
It's time to divide the asparagus spears into six bundles of 4 to 5 spears. You can start around an inch below the tips.
After that, wrap each bundle with 1 slice of bacon, and then press or tuck under the ends to secure. Take care to minimize areas where bacon overlaps.
When that is done, on the oven-safe rack, you are to arrange the bacon-wrapped asparagus bundles in a single layer.
However, you need to make sure that you leave some space between them. You can now bake in the preheated oven for 18–22 minutes.
Or, just until the asparagus becomes tender and the bacon has cooked to your liking. After that, you can now serve and enjoy.
Notes
If you want your bacon to be so crispy, then precook it or just make sure that you use thinly sliced bacon.
Serving Suggestions
This asparagus appetizer is extremely versatile and delicious. You can actually serve it with almost any dish.
Below are a few serving suggestions:
Pasta
A few mouth-watering portions of pasta to pair with your tasty asparagus include shrimp alfredo pasta and spaghetti carbonara.
Salad
You can also prepare some cabbage cucumber salad or broccoli cranberry salad ahead of time.
Meats
You can serve baked breaded chicken cutlets or cast iron ribeye steak with this tasty side, as they pair so well.
Sides
With these bacon-wrapped asparagus, you can serve crispy air fryer Brussels sprouts, scalloped potatoes, and baked potatoes. They taste great together.
Storing Asparagus Wrapped In Bacon In Oven
To store them, you should place them in a tightly sealed container and then in the refrigerator.
But you need to make sure that this is done only after they have cooled.
Doing this will make them remain fresh for around 4-5 days. And, when you want to reheat, just place the bacon-wrapped asparagus back on the wire rack and baking sheet.
After that, you can now heat them for a few minutes until they get warmed through.
Freeze
Keep in mind that the texture of bacon-wrapped asparagus does not hold up well when frozen.
But you can still freeze them if that's what you want. Just make sure to wrap them in foil immediately after they are cooled.
With that being done, you can now place them in a freezer zip-lock bag.
You can freeze them for up to three months. Although, before you warm them, make sure you defrost them overnight.
Recipe Frequently Asked Questions
Why Is My Asparagus Mushy?
Your asparagus might have gone bad if it was mushy before cooking.
However, submerging it in ice water for around a minute, then draining it and patting it dry might perk it back up.
Although it is very likely that you over-cooked the sheet pan if your asparagus is mushy after cooking.
It is this way because you didn't allow air to circulate properly, you over-baked it, or the oven temperature was just too low.
Is It Possible to Overcook Asparagus?
The short answer to this is yes. You can certainly overcook asparagus. It is quite possible that you've overcooked the asparagus if it is soggy.
However, sadly, there's not much that you can do to save it in this condition.
When you pierce the asparagus easily with a fork, but there's still a little resistance, you know it's done.
What Should I Do With The Leftover Bundles?
If you have any leftover bacon-wrapped asparagus bundles, you can refrigerate them for up to 2 days.
You can always enjoy them chopped up and warm them in a skillet. Also, toss them with hot pasta or with scrambled eggs and a little cheese.
Final Thoughts on Asparagus Wrapped In Bacon In Oven
Make sure that you use thin bacon slices if you really want crispy bacon. There's also the option of giving the bacon a head start.
Also, use thin, center-cut bacon if you want your result to yield meatier, leaner bundles.
And you might actually need to add 1-2 minutes to the baking time if you want thicker stalks of asparagus.
Keep in mind that the perfect oven temp for cooking asparagus bundles wrapped in bacon is 425 degrees Fahrenheit.
Well, with all that being said in this guide on asparagus wrapped in bacon in the oven, this concludes this guide.