As you know, nothing screams summer more than relishing a nice old-fashioned hot dog. So, in this guide, I will be giving you the best way to cook a hot dog without a grill.
Now, let's talk about this first-rate and purely American invention. You need to keep in mind that regionally, it differs when it comes to what it's topped with.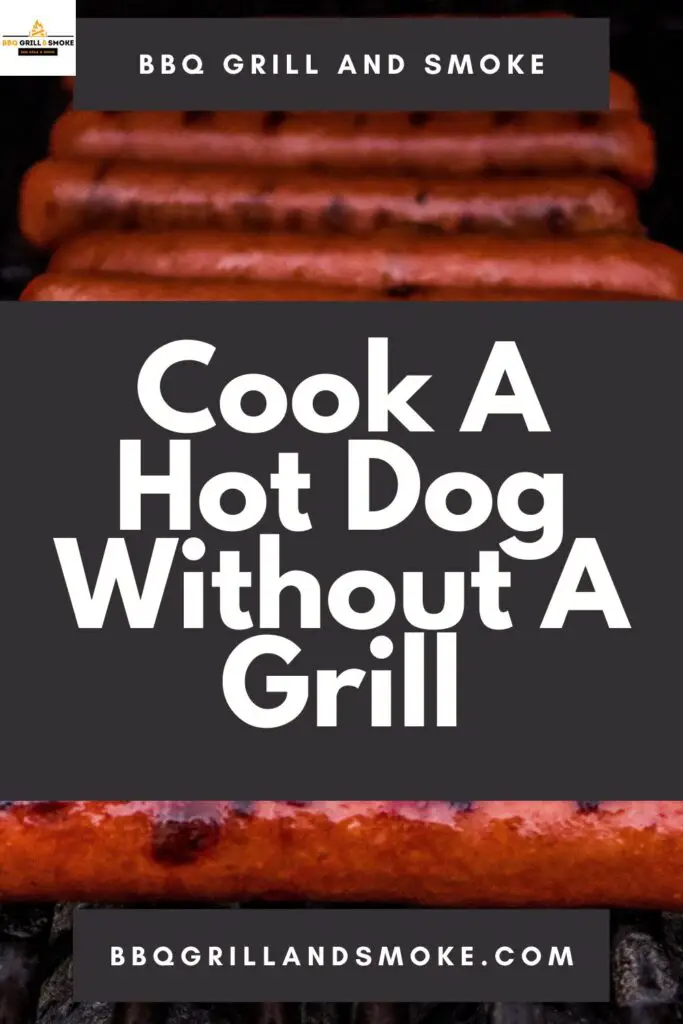 You will agree that there's something exceptionally mouth-watering about biting into a soft bun packed with a plump and snappy sausage.
For several people, I will say that the most common method to cook these dogs is to sear them over an open flame outside while enjoying an ice-cold beer.
Although, sadly, a lot of people do not have access to a costly grill throughout the year, some don't have access to one at all.
So, sometimes, other methods of cooking have to be applied to get the job done.
Hot dogs are so all-around that they can be cooked in a variety of ways, even if you don't have a grill.
Ways ranging from griddling to oven roasting, pan frying, and even microwaving.
In my opinion, I will say cooking these sausages in a skillet or first-rate cast-iron pan is most likely the most convenient way to cook them at home.
All you need to do is simply add a small amount of water to a pan set over medium-high heat.
Then, add the dogs to the skillet immediately after the water begins to gently boil and cook, rolling the hot dogs frequently until they become evenly brown.
Well, that being said, let's get right back to the best way to cook a hot dog without a grill.
Different Ways To Cook Hot Dogs
There are different ways to cook hot dogs, but below are the best ways to cook a hot dog without using a grill.
Get Fancy and Sous-Vide Hot Dogs
Sous vide is a rather famous cooking technique. It has to do with cooking food at a constant temperature for a long time.
Hot dogs are excellent in a sous vide machine, given the fact that this technique will not overcook them and you can also keep them warm for a long time.
When it comes to sous vide dirty water dogs, just use hot dogs with casings and add some spices and red wine vinegar to the resealable sous vide bag.
You will get some rounded, extra-flavored franks after 45 minutes, which are ready to be eaten on buns and with toppings based on your preference.
Boil Hot Dogs
This is a simple way to cook large quantities of hot dogs, and it has been tested and trusted.
Just get a large saucepan, hot dogs, tongs, and water. After that, first, fill the large saucepan with enough water.
Make sure the water is enough to cover the hot dogs (around 1 cup for each hot dog).
Then, bring the water to a boil. After that, add the hot dogs one after the other using tongs.
When that is done, reduce the heat to the low setting and permit the hot dogs to simmer for around 3 to 6 minutes.
Keep in mind that the longer they simmer, the crispier they will get.
Immediately after they are done, remove them from the water using the tongs and use the paper towels to pat them dry.
Deep-Fry Them for Crunch and Complex Flavor
You can actually make it yourself if you've never tasted one and are curious about what a deep-fried hot dog is.
I suggest that you only choose hot dogs with a casing to create deep-fried hot dogs, as this is meant to burst during cooking.
Plus, the crust becomes brown and caramelizes, which then gives the deep-fried hot dog a special, complicated flavor.
A deep-fried hot dog will not absorb as much oil as you would imagine, which is quite surprising about this cooking technique.
For example, compared to French fries, it absorbs less oil. So, just deep fry them if you happen to be craving flavor-packed hot dogs that are similar to bacon.
Pan-Frying (Starting With A Good Steam)
This guarantees a rounded interior and a crunchy exterior. It also permits you to control the level of golden brown on the exterior.
There's actually no oil involved, so you shouldn't be fooled by the word "frying."
To do this, first, you have to pour half an inch of water into a frying pan and allow it to come to a simmer on medium-high heat.
After that, add the hot dogs to the pan, one at a time, and place a lid on the pan for around 2–3 minutes.
This is done to allow them to steam. However, make sure you add more water, but a little at a time, if the water boils off and the bottom of the pan is dry before the 2-3 minutes are up.
Now, remove the lid from the pan and allow the water to boil dry after 2–3 minutes of steaming.
Afterward, roll the hot dogs around for a few minutes, as this helps get them browned on all sides.
Cook Hot Dogs In The Oven
Oven-roasting is perfect for cooking big batches of hot dogs, particularly for a gathering, and it is a mess-free method.
Now, get hot dogs, aluminum foil, and a rimmed baking sheet. After that, get an oven and preheat it to 400 degrees Fahrenheit.
When that is done, use aluminum foil to line a rimmed baking sheet, and then bake the hot dogs for 10 to 15 minutes.
Or, just until you start to hear a sizzle. Now, I suggest you broil the hot dogs for an extra few minutes if you prefer the exterior to crisp even more.
Cook Hot Dogs in the Microwave
Well, I consider this method to be the fastest way to heat a hot dog, and you will need hot dogs, a paper towel, and a microwave-safe plate.
All you need to do is place the hot dog(s) on the microwave-safe plate and cover it with a paper towel.
After that, microwave on high for 15-second increments until you achieve your preferred result.
The Verdict on Cooking A Hot Dog Without A Grill
As you know, hot dogs are a well-known food in the United States, mainly because of their easy preparation methods and their link with barbecues and sporting events.
However, some people reject them due to the fact that they contain food additives and meat trimmings.
Still, hot dogs are a great way to decrease food waste and use most animal parts.
That being said, the above are some of the possible methods you can use to cook hot dogs.
That way, you can pick your own best way to cook a hot dog without a grill.