Whataburger patty melt recipe is definitely a delicious sandwich.
You just can't go wrong with a tasty patty melt made with melted slices of cooked onions, Monterey Jack cheese, and creamy pepper sauce between the buttery Texas toast.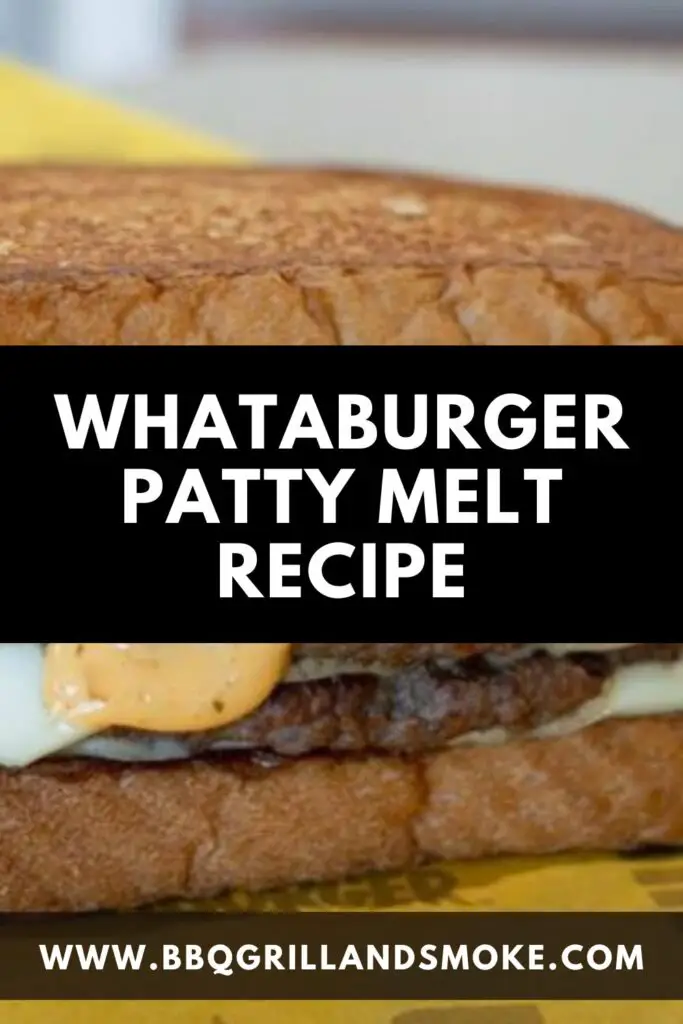 Why is this called a Patty Melt?
I'm sure you know that a patty melt is a delectable type of burger in that freshly grilled meat patties are topped with Swiss cheese and grilled onions.
This sandwich was actually created by Tiny Naylor, or the owner of Tiny Naylor, as a variation of a Tuna Melt.
This burger was made sometime between 1930 and 1959. Fortunately, this burger is a treat everyone can enjoy.
Patty Melt Sandwich
The first-rate patty melt has been a staple in restaurants and diners all over the United States for decades now.
It is actually very easy to make the mistake of thinking of it as just a cheeseburger served on bread just by looking at it, particularly if you've never had one before.
The crown of it all is that when you make your own copycat recipe, you should eliminate the thought or worry of this being a short-term menu item.
A lot of people think Whataburger serves as the peak of patty melts on the Whataburger menu with its thick slices of signature Texas toast that is toasted until it becomes golden brown, double meat, and famous creamy pepper sauce.
You will certainly love this copycat Whataburger patty melt recipe, especially if you agree and want to have the version of this patty melt that Whataburger makes.
Whataburger Patty Melt Recipe
A Whataburger patty melt is a simple replica burger recipe made at home.
Ingredients you need for this include Monterey Jack cheese, ground beef, lemon juice, Worcestershire sauce, Texas toast, onions, and some rich spices.
All you need to do is grill the patties, deep-fry the onions, and start to arrange. In just 20 minutes, the patty melt will be ready.
Course: Copycat
Cuisine: American
Prep Time: 5 minutes
Cook Time: 20 minutes
Total Time: 25 minutes
Servings: 2
Equipment
Tongs
Whisk
Bowls
Griddle
Ingredients
For Burger
½ pound of ground beef
2 Texas toasts
1 teaspoon of garlic powder
½ cup of softened butter
½ cup of onion
For Creamy Pepper Sauce
1 tablespoon of garlic
1 tablespoon of winter truffle
1 tablespoon of mayonnaise
1 teaspoon of salt
1 teaspoon of Dijon mustard
1 tablespoon of ketchup
1 tablespoon of white pepper
1 teaspoon of lemon juice
1 tablespoon of green peppercorn
1 teaspoon of sweet paprika
1 teaspoon of black pepper
1 tablespoon of Worcestershire sauce
For the Toppings
½ cup of onions
½ cup of Monterey Jack cheese
Laid-Out Instructions
First, get a bowl, then add the garlic powder, salt, ground beef, and black pepper to it.
After that, proceed to blend the mixture and create round-shaped patties. That being done, slice the onions into thick rings.
Afterward, soak them in buttermilk, coat them with flour, and then deep-fry. Crunchiness will be added by the fried onions.
For Preparing Creamy Pepper Sauce
Just blend the white pepper, Dijon mustard, minced garlic, mayonnaise, green pepper, lemon juice, Worcestershire, ketchup, salt, sweet paprika, and winter truffle together.
That being done, now mix the elements to create a creamy sauce. Make sure you grease the pan with a teaspoon of olive oil.
It's time to grill the patties to crunchy perfection. After that, place a slice of Monterey Jack cheese on top of the cooked patty.
Then, allow it to melt for 2 minutes. At the same time, toast the bread with a teaspoon of butter.
Lastly, you should start to set the sandwich after the patties are cooked and the bread is toasted.
Just rub the ends with a slice of garlic to perfume the toast with a garlicky tang after the bread is toasted.
When that is done, ensure that you layer the bottom bun with a lavish amount of sauce.
Also, place the two beef patties on top, and after that, place crispy onions on them. Now, sauce the top of the toast and cover it to serve.
What To Serve With Patty Melts
Patty melts are more or fewer cheeseburgers with different bread; that is to say, you can serve them with the same things you would serve with a burger.
I recommend you go with fries, as they are always an excellent bet, and the same with other classic grilling favorites such as mac and cheese, coleslaw, baked beans, and so on.
How To Store and Reheat a Homemade Patty Melt
I actually suggest that you cook the meat and grill up the onions if you are going to cook up the whole recipe, and you also don't need all of the burgers.
I will also suggest that you do not arrange the sandwich until you are ready. Just before serving it for the second time, toast the bread.
In addition, you can reheat your hamburger patties in an air fryer. All you need to do is set it to 350 degrees Fahrenheit for around 3 to 4 minutes.
Or, you can just reheat them in the microwave. This should take more or less 30 seconds.
Recipe FAQs
What If I Can't Find Monterey Jack Cheese?
Well, you can always use other types of cheese, such as mozzarella or cheddar. Just ensure that it is a type of cheese that melts well.
Can I Use Other Types Of Bread Instead Of Texas Toast?
The short and straightforward answer to this is yes; you can use other types of bread rather than Texas toast.
Although remember that Texas toast adds authenticity to this simple recipe for Whataburger patty melt.
Even so, you can still replace it with any thick-sliced white bread.
Can I Make The Creamy Pepper Sauce At Home?
Definitely. You can make your own creamy pepper sauce with garlic powder, canned jalapenos, mayonnaise, and Worcestershire sauce.
How Can I Make My Onions More Caramelized?
Just cook them slowly over low heat to create perfect caramelized onions. Also, reduce the heat if they are browning too quickly.
Final Thoughts on Whataburger Patty Melt Recipe
As you now know, the Whataburger patty melt is a sandwich filled with Monterey Jack cheese slices, creamy pepper sauce, crispy onions, and beef patties.
The Whataburger patty melt will actually cost you nothing more than $5. But, as you are aware, you can make it right in your kitchen.
Just use the above healthy recipe for Whataburger patty melt to create an unforgettable experience.
And, as a fact, Whataburger patty melt is one of the permanent staples. That being said, this concludes this guide to the Whataburger patty melt recipe.