In this guide, you will learn how to use this taco bell meat recipe to make taco meat taste more or less like takeout.
After that, you can recreate all of your favorite menu items at home. This taco bell meat recipe is salty and tasty with a touch of heat.
It is incredibly mouth-watering and a recipe that you'd crave at any time of the day.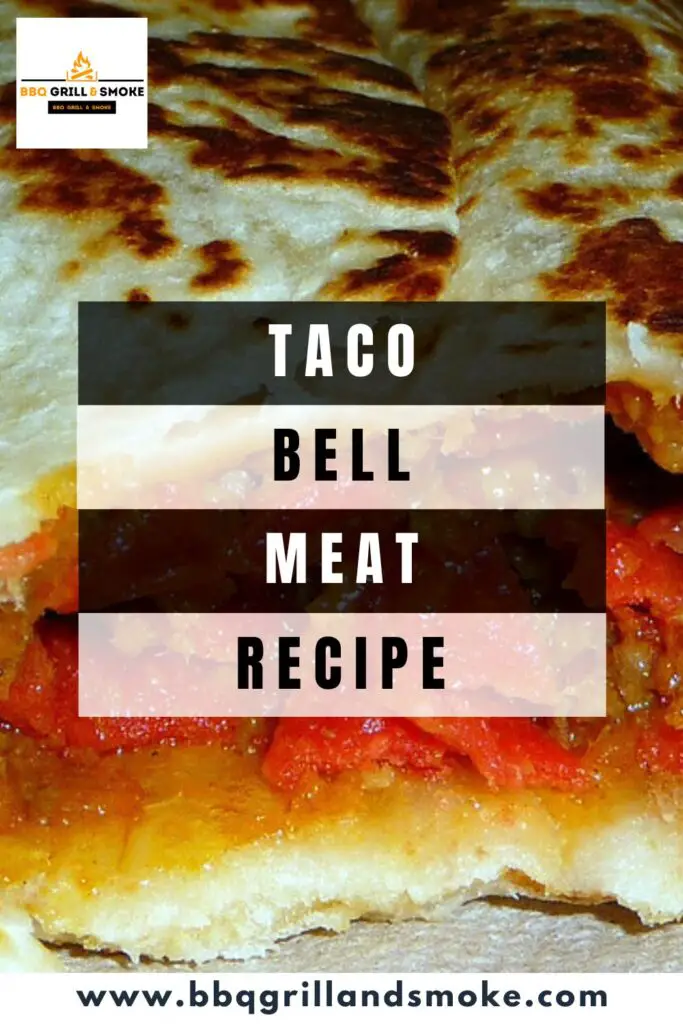 Although you can't deny that there are several homemade taco meat recipes available, the fact is that none have ever matched the taste of this fast food favorite.
There will be no reason to wait in the drive-thru again immediately after you've learned how to make homemade taco meat.
What Is Taco Bell Meat Made Of?
Taco Bell meat contains less meat and more filler additives, such as modified cornstarch and cocoa powder.
Taco Bell's seasoned beef comes with tortula yeast, which is added to help boost the meaty flavor and provide a rich umami and more tasty taste.
It's highly recommended that you make your taco bell beef at home because you can then cut down on additives and unhealthy fillers.
Taco Bell Meat Recipe
As previously mentioned, you can use this recipe for taco bell meat to learn how to prepare taco meat, and it will taste more or less like takeout.
So, it's time for you to start recreating your favorite menu items at home.
Course: Main
Cuisine: Tex Mex
Method: Stovetop
Prep Time: 5 minutes
Cook Time: 10 minutes
Total Time: 15 minutes
Servings: 4 people
Equipment
Potato masher
Large skillet
Ingredients
1 pound of ground beef
1 teaspoon of chili powder
1 teaspoon of onion powder
½ cup of water
½ teaspoon of granulated sugar
1 tablespoon all-purpose flour
½ teaspoon of cumin
1 teaspoon of beef bouillon paste
2 tablespoons of tomato paste
½ teaspoon of garlic powder
1 teaspoon of paprika
Laid-Out Instructions
First, get a large skillet and add the ground beef to it over medium heat. After that, cook it until it becomes brown.
That being said, get a meat chopper or potato masher and use it to break the meat into very small pieces as it cooks.
Afterward, you can now add the remaining ingredients to the skillet and bring it to a simmer.
When that is done, continue cooking, and then proceed to break the meat apart as required.
Continue this until most of the liquid is absorbed, around 5 minutes. Then, you can now use it as you want and enjoy it.
What To Make With Taco Meat
The truth is that the options for this are unlimited, and below are some of my favorites:
Baked mini chicken tacos
Cheesy taco pasta
Oven-baked walking taco casserole
Cheesy Doritos casserole
Simple southwest taco salad
Flatbread taco pizza
Ground beef flautas
Homemade crunch wrap supreme
Instant pot taco soup
Cheesy Gordita crunch
You will also love the result of serving this simple taco meat in taco shells – flour tortillas or corn tortillas – with first-rate taco toppings such as Pico de Gallo, hot sauce, salsa, guacamole, lettuce, cheese, sour cream, and cilantro.
In addition, you can opt for a squeeze of fresh lime juice, which is also delectable.
Make-Ahead, Storage, Freezing, and Reheating Taco Bell Meat
Make-Ahead
This simple taco bell meat recipe is an ideal make-ahead option. I suggest you just cook as directed and store in the fridge until you are ready to use.
Storage
Get an airtight container and store the leftover taco meat in it. Place it in the refrigerator. This will allow it to last for up to a week.
Freezing
Just place it in a freezer-safe container or Ziploc bag if you want to freeze your taco meat.
After that, proceed to freeze for up to 3 months, and before reheating, defrost overnight in the fridge.
Reheating
Get a large skillet and reheat the taco meat in it over medium heat until it is warmed through.
Afterward, to loosen it up, simply add a splash of broth or water, as this will help keep it from drying out.
Plus, you can zap it in the microwave in 30- to 60-second increments or just until it becomes heated through.
Recipe FAQs
Can I Use Ground Turkey Instead Of Ground Beef?
The short answer to the above question is yes. Indeed, in your easy recipe for taco bell meat, you can use ground turkey, as it will serve as a leaner alternative to ground beef.
All you need to do is follow the same cooking instructions, and you can also adjust the seasoning based on your preference.
Can I Make The Taco Bell Meat Ahead Of Time?
The answer to this is also yes. You can make the taco bell meat ahead of time and store it in the freezer or refrigerator.
When it comes to busy weeknights or when hosting a taco bar party, this is an excellent time-saving option.
Can I Make The Taco Bell Meat Spicy?
The answer to this is also yes. You have the choice of making the taco bell meat as spicy as you prefer.
All you need to do is add additional spices or use a spicier variety of seasoning mix.
And you are also free to experiment with a variety of chili powders or hot sauces to create your desired level of heat.
Can I Use The Taco Bell Meat In Other Dishes?
The straightforward answer to this is still yes. This taco bell meat can be used in several dishes, except tacos and burritos.
You can feel free to try using it as a filling for quesadillas and enchiladas, and you can also use it as a topping for nachos. It is just a plain fact that the options are limitless.
What Can I Add To My Taco Meat?
You can add black beans, pinto beans, or diced bell peppers. This is such a simple way to add some additional protein and fiber.
In addition, you can also try green chiles, canned diced tomatoes, or Rotel tomatoes.
Is Taco Bell Meat Made With Real Beef?
Well, yes, taco bell meat is made with natural beef. It is just a combination of ground beef and an exclusive blend of seasonings.
Final Thoughts on Taco Bell Meat Recipe
All you need to do is follow the simple steps, personalize the flavors to your taste, and enjoy delectable taco bell meat right in the comfort of your own home.
It's time that you get to cooking now that you have the best taco bell meat recipe at your fingertips.