In my opinion, I consider oven-baked meatballs to be by far the easiest way to cook meatballs. So, in this guide, you will learn how to bake meatballs in the oven.
This way, you can cook a lot at the same time and also make sure that they are all cooked evenly throughout.
This method helps make sure that all of the meatballs are cooked the same way.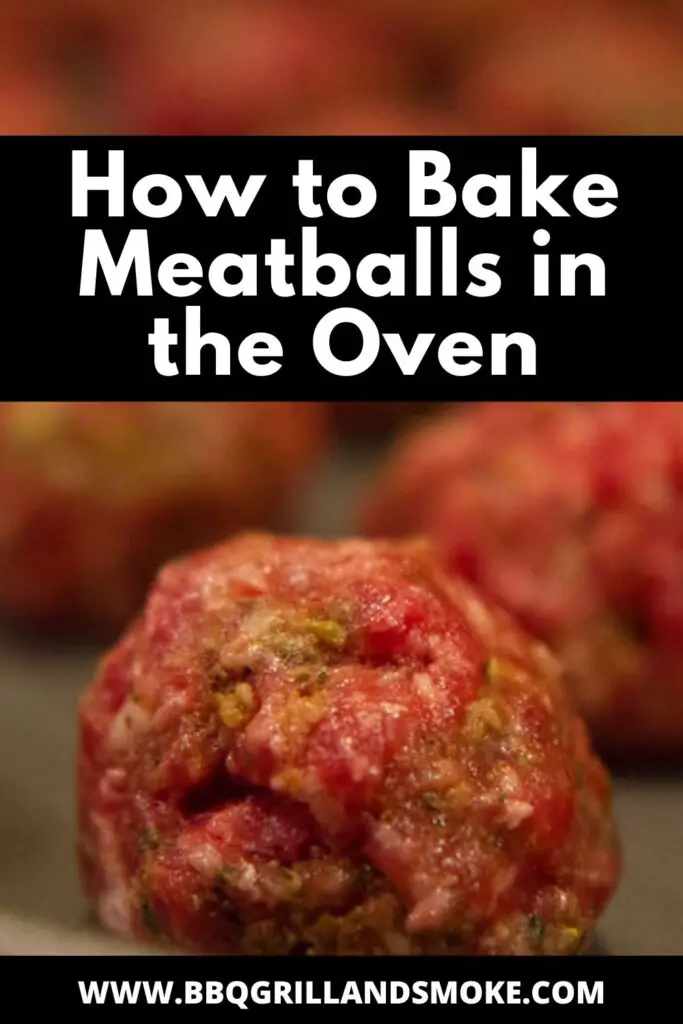 It is also quite cool that you don't have to hover over the skillet to turn the meatballs over.
Instead of that, you can just work on the other parts of the meat while the meatballs are baking in the oven.
It is a fact that using a skillet is a perfectly fine way to cook meatballs, but immediately after you learn how to bake them in the oven, I can assure you that you will never go back.
What Is A Meatball?
A meatball is a small portion of ground meat that has been seasoned and rolled into a round, ball-like shape.
There's a tendency for meatballs to be made as a way to use up excess meat, just by taking scraps of meat, grinding them into small bits, and then maybe adding some fillers to help hold the mixture together.
The meat is then rolled into a ball and can then be used in soups, sauces, stews, and pasta dishes.
In the world today, meatballs are served as side dishes to the main entrée or appetizers, or they can be mixed with foods like noodles or pasta to become the main entrée.
Easy Oven Baked Meatballs
This is an easy, guaranteed, and incredibly tasty recipe for baked meatballs that the entire family will love.
These oven-baked meatballs can be used as appetizers, meatballs and gravy, pasta dishes, and so on.
Course: Main Dish
Cuisine: American
Method: Bake
Prep Time: 20 minutes
Cook Time: 18 minutes
Total Time: 38 minutes
Yield: 20 meatballs
Serving Size: 1 meatball
Ingredients
1 pound of ground beef
3 tablespoons of milk
½ teaspoon of salt
¼ teaspoon of ground black pepper
1 egg
2/3 cup of finely crushed crackers
¼ teaspoon of onion powder
Laid-Out Instructions
First, just start by preheating your oven to 400 degrees Fahrenheit. Then, for easy cleanup, go ahead and prepare a baking sheet with parchment paper.
After that, get a Ziploc bag and add 20 to 14 crackers to it, then proceed to crush them using a bowl or cup until they have become finely crushed.
That being done, get a medium-sized mixing bowl and add the egg, milk, ground beef, salt, crushed crackers, pepper, and onion powder.
Now, proceed to mix the ground beef mixture until all the ingredients are well blended.
You can start mixing the ingredients using a spoon, then knead them using your hands.
It's time to form the meatballs. Get a 1.78″ meatball maker and use it, as it makes it extremely easy to scoop uniform meatballs and makes the process much quicker.
Before using the meatball maker, you are to first run it in hot water; that way, the meat mixture won't stick to the inside of the meatball maker.
However, you can just keep dividing the meat mixture in half until you have 20 equal portions or meatballs that are 1 ½ to 1 ¾ inches in size.
This is if you happen not to have a meatball maker or cookie scoop.
Now, get the pre-prepared baking sheet with parchment paper and place the meatballs on it.
Make sure that you arrange the meatballs with a lot of space in between them, as this will help them cook evenly.
Afterward, proceed to bake in the oven for 18 to 22 minutes at 400 degrees F. The meatballs should then be nicely browned and juicy.
You are to cook the meatballs to an internal temp of 160 degrees. You can check this using a meat thermometer.
Or, you can just cut it into one meatball to ensure that it is no longer pink.
Now, it's time to enjoy your oven-baked meatballs in your favorite main dish or as appetizers.
Storage
Store
If you have any, you can store your leftover baked meatballs in a tightly sealed container and place it inside the fridge. This will make them last for up to 4 days.
Freeze
Well, fortunately, the meatballs freeze quite well. You can just flash freeze on a baking tray.
After that, place them in freezer bags until you are ready to use them.
You can also add them directly to the sauce in a saucepan until they are heated through.
Serving Suggestions
Air fryer mac and cheese
Garlic and herb butter pasta
Easy pasta sauce
Recipe FAQs
How Long Should I Bake Meatballs at 350?
You can bake a 1 ½ to 1 ¾ inch meatball for 20 to 25 minutes or longer at 350 degrees Fahrenheit for it to reach an internal cooking temperature of 160 degrees F.
However, you will need to cook them for a longer timeframe, around 30 to 35 minutes or more for 2-inch meatballs.
How Long Do You Bake Meatballs?
The question is more like, How long should you bake meatballs in the oven?
Well, the size of your meatballs and the temperature of the oven are the determinants of how long you will bake meatballs in the oven.
I'm using a meatball maker that is 1.78″ inches for this simple recipe, and the temp of the oven is set to 400 degrees Fahrenheit.
So, you will bake the meatballs for 18 to 22 minutes at this size and oven temperature.
What Is The Secret To Tender Meatballs?
For the secret to tender meatballs, I will strongly suggest that you soak the breadcrumbs in milk and mix them with the seasonings and meat until they are well combined.
I consider this to be the best way to make sure that your recipe always yields soft, scrumptious, moist meatballs.
I also recommend that you choose ground beef with at least 10 percent fat.
That is the key factor in this secret. Lean meats are very likely to become really dry.
Final Thoughts on Baking Meatballs in the Oven
I suggest you go for crushed Ritz crackers or saltine crackers; however, you can also use breadcrumbs, as this is based on your preference. Just ensure that whatever you use is finely crushed.
So that the meatballs will become nice and juicy, not dry, I recommend that you use 85% lean and 15% fat ground beef.
You can also use ground beef with 97% lean and 3% fat; just keep in mind that it will have a bit less moisture.
Lastly, ground chicken, ground turkey, or ground pork will also work perfectly well for this healthy recipe.
In addition, you can also use half turkey and half ground beef. This concludes this guide on how to bake meatballs in the oven.