This simple recipe for Roasted Squash and Zucchini in Oven uses fresh summer squash that's covered with oil and Italian seasonings.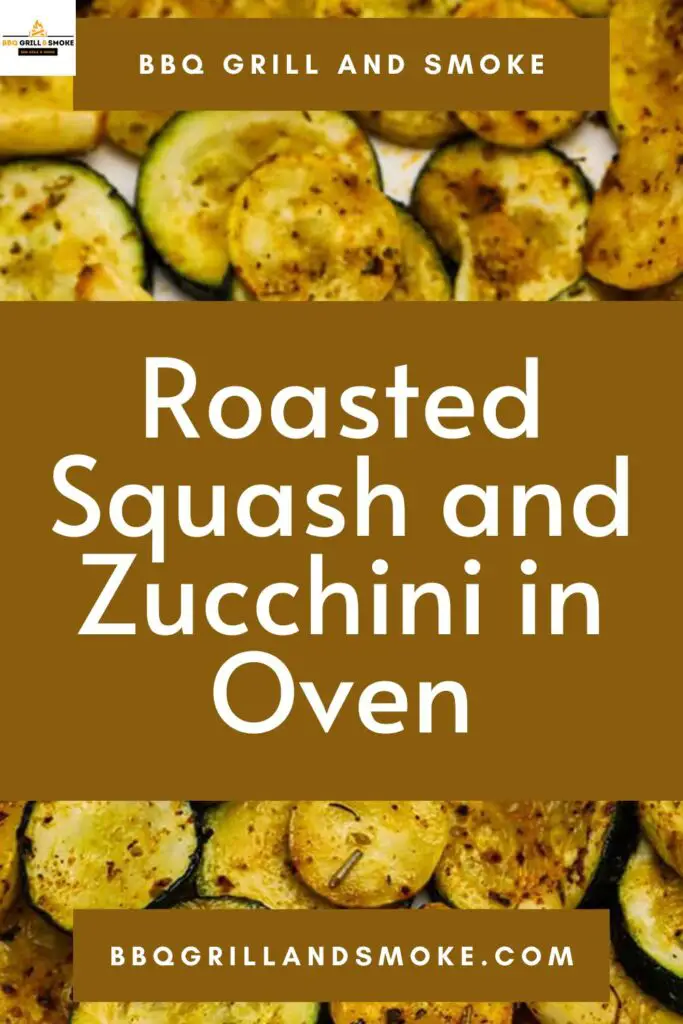 It is then roasted in the oven until it becomes tender. This makes an ideal healthy side dish, and this is something that will be done in 20 minutes.
Squash and Zucchini
Zucchini has become a great vegetable over the years. It can be used in a variety of ways, such as zucchini boats or pasta.
However, be sure that roasting up zucchini and squash still has an incredible taste.
This easy oven-roasted method is ideal for you, particularly if you have loads of zucchini and yellow squash in the summer months.
Well, all you will need to do is slice the squash, cover it with oil and seasonings, and then proceed to roast it in the oven.
Allow it to roast until it becomes fork-tender for a healthy vegetable side dish. It is also low in carbs and calories.
You can also get it seasoned based on your preference. Well, that being said, let's get to the best recipe for roasted squash and zucchini in oven.
Recipe for Roasted Zucchini and Squash
Roasted squash and zucchini are fast and simple side dishes, that get ready in the oven in minutes.
Sliced squash and zucchini are tossed with Italian seasoning and parmesan cheese, and after that, you roast them in the oven.
Cuisine: Italian
Category: Side Dish
Prep Time: 5 minutes
Cook Time: 15 minutes
Total Time: 20 minutes
Servings: 4 servings.
Equipment Recommendations
Measuring Spoons
Reynolds Parchment Paper
Zwilling Pro Chef's Knife
Nordic Ware Half-Baking Sheet
Ingredients
2 small zucchini
2 small yellow squash
1.5 tablespoons of Italian seasoning
1.5 tablespoons of olive oil
½ teaspoon of salt
½ cup of grated parmesan cheese
¼ teaspoon of pepper
1 teaspoon of garlic powder
Laid-Out Instructions
The first step to this is to preheat the oven to 400 degrees Fahrenheit, and then you can proceed by using parchment paper to line a baking sheet.
After that, set it aside. Now, you can cut up the zucchini and yellow squash into thick ½ inch disks.
And, when that is done, pat them dry using a paper towel. Also, set aside. Get a bowl and add the Italian seasoning, olive oil, salt, pepper, and garlic powder to it.
After that, add zucchini and yellow squash disks and then toss to coat. Get the parchment-lined baking sheet and pour the zucchini and squash onto it.
Make sure you spread it into a single layer. That being done, you can now spray the tops of zucchini and squash with parmesan cheese.
Proceed to bake for around 15 to 17 minutes, or you can just bake until it's cooked through to your liking.
Notes
Keep in mind that larger or thicker zucchini and squash might need a few more minutes to cook through.
And, you can test the doneness by piercing it with a fork in the center.
I also strongly suggest that you use freshly grated parmesan cheese.
When melted, pre-grated parmesan cheese (or parmesan cheese sold in a green cylinder) often contains anti-clumping powder and can be grainy.
What to Serve with Roasted Zucchini
The beauty of roasted zucchini is that it tastes mild, and that means you can serve it with almost any main dish. And, below are a few:
Grilled Shrimp Dishes
You can pair it with Shrimp Kabobs and easy Grilled Shrimp Seasoning.
Sandwiches
Or, go with Whole30 Chicken Salad, Chickpea Salad Sandwich, and Greek Yogurt Healthy Chicken Salad.
Burgers
There are three great options and they include Avocado Burger, Quinoa Burger, and Portobello Mushroom Burger.
Garlicky, Buttery Shrimp Dishes
You can pair Garlic Butter Shrimp, Garlic Shrimp with Quinoa, and Baked Shrimp Scampi with this delectable Roasted Zucchini.
Pasta
Baked Chicken Meatballs or Baked Turkey Meatballs are extremely delicious with zucchini, as are creamy pasta dishes such as Crock Pot beef Stroganoff or Pot Beef Stroganoff.
How to Store the Leftover Vegetables
You can do this by getting a tightly sealed container and storing your veggies in it. Then, you can place it in the fridge.
The squash will last for up to 2 to 4 days. And, immediately after it cools down, you will find that the squash will soften up a good amount.
To Reheat Roasted Zucchini
Just arrange the roasted zucchini in a single layer when you are ready to reheat. Make sure it is on a lightly oiled baking sheet.
Then proceed to reheat at 400 degrees F. This should be done until the zucchini is hot. However, make sure you do not overbake, or it will become soggy.
FAQs about Roasted Squash and Zucchini
What's the Difference Between Zucchini and Yellow Squash?
The shape and texture are the main differences between zucchini and yellow squash. You will find a bulb on the bottom of the yellow squash.
And, it normally contains less water, which gives it a little more of a thick texture. If not, they taste the same.
How Do You Cook Zucchini and Squash Without Them Getting Mushy?
The secret to this is to ensure that it does not steam in the oven.
And, as previously stated, this can be achieved by ensuring that the zucchini is in a single layer.
Also, make sure that it is at a high enough temperature, as this will help produce dry heat.
Do You Peel the Zucchini and Squash Before Cooking?
The fact that zucchini and squash have extremely thin skin is a very nice thing.
So, before cooking, you can decide not to peel it as that is not quite necessary.
However, if you would prefer to have it skinless, then you can go ahead with that, but I recommend you don't peel it as the skin helps keep the squashes together.
How Long To Roast Squash
Squash and zucchini are tender, quick-cooking vegetables.
They actually do not require so much time in the oven compared to heartier vegetables such as broccoli or Brussels sprouts.
You only need around 15 to 17 minutes for thick, ½ inch disks in a 400°F oven.
Conclusion on Roasted Squash and Zucchini in Oven
You can also roast your vegetables on an oven-safe cooling rack. After that, you can line a baking sheet with foil.
After that, you are to place the oven-safe cooling rack on top. This will in turn help the air circulate around your vegetables.
It will also allow the excess moisture to drip down to the baking sheet below.
And, that being said, this will be the wrap-up of this guide on "Roasted Squash and Zucchini in Oven."